Hello Windows Insiders, today we are releasing Windows 11 Insider Preview Build 25915 to the Canary Channel.
August 2023 Bug Bash Coming Soon: Starting on August 2nd, we'll be having our next bug bash! The bug bash will span the latest features available in preview builds across the Canary, Dev, and Beta Channels. Stay tuned for more details in next week's flight blog posts.
REMINDER: As builds released to the Canary Channel are "hot off the presses," we will offer limited documentation for builds flighted to the Canary Channel including documenting only the most significant and highly impactful known issues. Please note that we will not publish a blog post for every flight – only when new features are available in a build.
What's new in Build 25915
New features from the Dev Channel
This build includes new features from the Dev Channel, such as modernized File Explorer Home, Address Bar, and Details Pane, passwordless improvements (passkey), never combined mode on the taskbar, and more.
The New Outlook for Windows is now an inbox app
Starting with this build, the new Outlook for Windows Preview is now an inbox app. With the new Outlook for Windows, you can connect work and personal emails, calendars, and contacts in one secure place. Learn about the new Outlook for Windows here and the most recent set of updates for Insiders here. You can click here to learn more about the future of Mail and Calendar in Windows.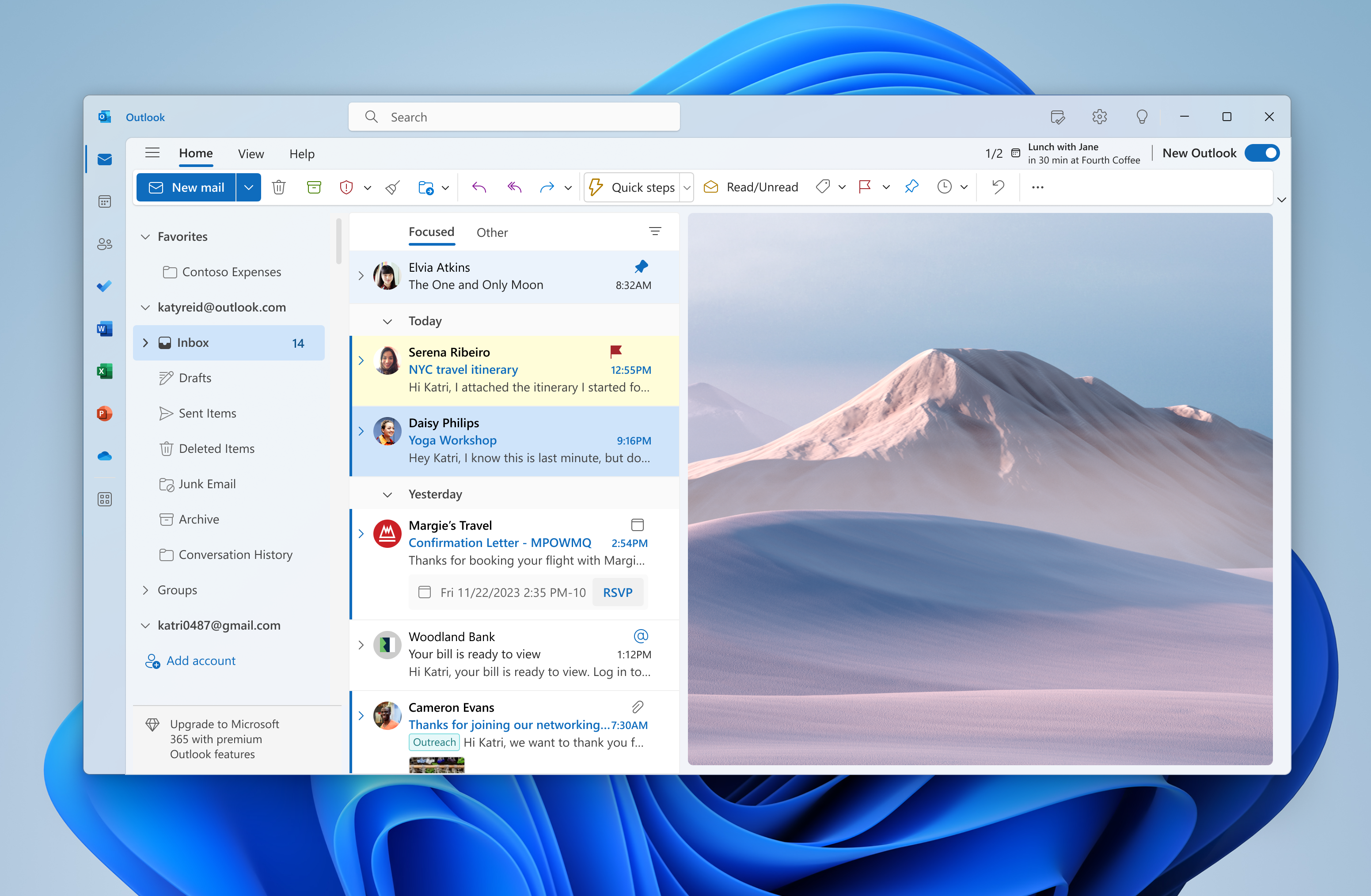 Changes and Improvements
[Graphics]
We have improved refresh rate logic to allow different refresh rates on different monitors, depending on the refresh rate for each monitor and content shown on the screen. This will help most with refresh rate-dependent multitasking, like playing a game and watching a video at the same time.
While a Dynamic Refresh Rate (DRR) is selected and Battery saver is also enabled, Windows will remain at the lower refresh rate and not switch to the higher rate until after Battery saver is disabled.
Fixes for known issues
The issue that resulted in some Windows Insiders in the Canary Channel on ASUS devices or PCs with ASUS motherboards has been resolved and these Insiders should receive this flight.
Ethernet-connected devices will no longer lose network connectivity after updating to this build.
For developers
You can download the latest Windows Insider SDK at aka.ms/windowsinsidersdk.
SDK NuGet packages are now also flighting at NuGet Gallery | WindowsSDK which include:
These NuGet packages provide more granular access to the SDK and better integration in CI/CD pipelines.
SDK flights are now published for both the Canary and Dev Channels, so be sure to choose the right version for your Insider Channel.
Remember to use adaptive code when targeting new APIs to make sure your app runs on all customer machines, particularly when building against the Dev Channel SDK. Feature detection is recommended over OS version checks, as OS version checks are unreliable and will not work as expected in all cases.
About the Canary Channel
The Canary Channel is the place to preview platform changes that require longer-lead time before getting released to customers. Some examples of this include major changes to the Windows kernel, new APIs, etc. Builds that we release to the Canary Channel should not be seen as matched to any specific release of Windows and some of the changes we try out in the Canary Channel will never ship, and others could show up in future Windows releases when they're ready.
The builds that will be flighted to the Canary Channel are "hot off the presses," flighting very soon after they are built, which means very little validation and documentation will be done before they are offered to Insiders. These builds could include major issues that could result in not being able to use your PC correctly or even in some rare cases require you to reinstall Windows. We will offer limited documentation for the Canary Channel, but we will not publish a blog post for every flight – only when new features are available in a build.
Our Canary Channel won't receive daily builds; however, we may ramp up releasing builds more frequently in the future.
The desktop watermark you see at the lower right corner of your desktop is normal for these pre-release builds.
Important Insider Links
Check out Flight Hub for a complete look at what build is in which Insider channel.
Thanks,
Amanda & Brandon
Source: https://blogs.windows.com/windows-insider/2023/07/27/announcing-windows-11-insider-preview-build-25915/