Hello Windows Insiders, today we are releasing Windows 11 Insider Preview Build 23430 to the Dev Channel.
What's new in Build 23430
Changes and Improvements
[General]
Urgent or important notifications that break through when do not disturb is turned on while using apps at full screen will now display a "view notification" button to view the content of the notification for privacy.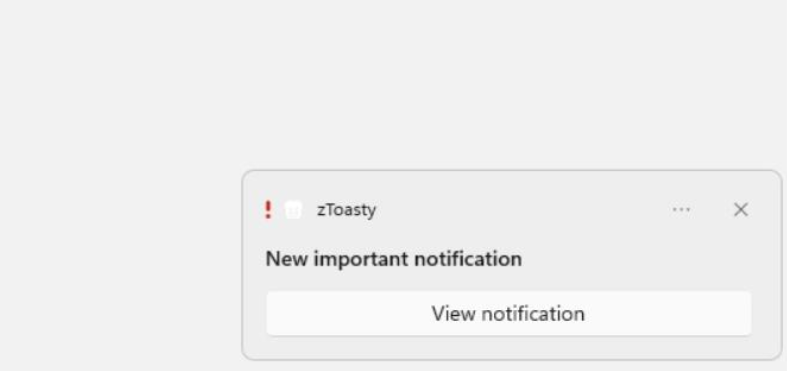 In the previous flight, we documented that Content Adaptive Brightness Control (CABC) works on desktop PCs – however, it does not. We have updated that blog post. Content Adaptive Brightness Control (CABC) also needs to be enabled by the OEM (the manufacturer of the device). As a result, this feature is not available on all laptop or 2-in-1 devices.
[Settings]
A limit of 20 most recent tabs has been introduced under Settings > Multitasking to show tabs in ALT + TAB and Snap Assist.
[Developer]
We are introducing a new setting under Settings > Privacy & security > For developers to enable end task when right-clicking an app on the taskbar. This setting is in Build 23430 but does not currently work when the feature is toggled on. It will be fixed in a future flight.
Fixes
[General]
Fixed an underlying issue causing some Insiders to see an increase in explorer.exe crashes in the last 2 flights.
[Input]
Fixed an issue where text input features like touch keyboard, voice typing, and emoji panel might not launch.
Fixed an issue where the buttons in the Pinyin IME's settings flyout were hard to see when they had focus if a contrast theme was enabled.
[Task Manager]
Fixed an issue impacting Task Manager reliability.
The search box should no longer be cropped at the top when the window is maximized.
[Accessibility]
Fixed an issue where in Quick Settings, Narrator was reading out the previous page's title instead of the active page's.
After downloading voice access, information to help you get started with it should correctly open again now.
Fixed an issue where popups for voice access weren't translated correctly.
NOTE: Some fixes noted here in Insider Preview builds from the Dev Channel may make their way into the servicing updates for the released version of Windows 11.
Known issues
[Search on the Taskbar]
There is an issue where some people may not see the search box on the taskbar and/or the settings to adjust the search box experience on the taskbar after updating to Build 23403. We are aware of the issue, and we are working on a fix.
If you have the Bing button in the search box on the taskbar and you restart your computer, you may see the daily rotating search highlight for some time before getting the Bing button back.
[File Explorer]
Insiders who have access keys in File Explorer:
Access keys will appear inconsistently if no button is pressed. Pressing a button will cause them to reappear.
[NEW] Shift + Right click on a file or folder is not opening "Show more options".
Insiders will have issues with the following commands on recommended files in File Explorer:
Clicking on the Share command will currently bring up the Windows share sheet (non-OneDrive).
[Live captions]
On ARM64 devices, enhanced speech recognition support installed through the Language & Region settings page will require restarting live captions if you switch languages in the live captions Caption language menu.
Certain languages shown on the Language & Region settings page will indicate speech recognition support (e.g., Korean) but don't yet have support for live captions.
When adding a language through the Language & Region settings page, language feature installation progress may become hidden, and you may not see install completion of "Enhanced speech recognition" (required by Live Captions). (You can use the language's "Language options" to monitor progress.) If this happens, there may be an unexpected delay before the live caption setup experience detects this and lets you continue.
Captioning performance may be degraded in non-English languages and missing out-of-language filtering in non-English (United States) languages which means that incorrect captions will be shown for speech not in the caption language.
For developers
You can download the latest Windows Insider SDK at aka.ms/windowsinsidersdk.
SDK NuGet packages are now also flighting at NuGet Gallery | WindowsSDK which include:
These NuGet packages provide more granular access to the SDK and better integration in CI/CD pipelines.
SDK flights are now published for both the Canary and Dev Channels, so be sure to choose the right version for your Insider Channel.
Remember to use adaptive code when targeting new APIs to make sure your app runs on all customer machines, particularly when building against the Dev Channel SDK. Feature detection is recommended over OS version checks, as OS version checks are unreliable and will not work as expected in all cases.
About the Dev Channel
REMINDER: The Dev Channel has been rebooted. Windows Insiders who were in the Dev Channel on 25000 series builds are being moved to the new Canary Channel. Going forward, the Dev Channel will receive 23000 series builds. Insiders who were moved to the Canary Channel and want to move back to the Dev Channel can follow these instructions to do a clean installation of Windows 11 and then re-join the Dev Channel to receive 23000 series builds.
The Dev Channel receives builds that represent long lead work from our engineers with features and experiences that may never get released as we try out different concepts and get feedback. It is important to remember that the builds we release to the Dev Channel should not be seen as matched to any specific release of Windows and the features included may change over time, be removed, or replaced in Insider builds or may never be released beyond Windows Insiders to general customers. For more information, please read this blog post about how we plan to use the Dev Channel to incubate new ideas, work on long lead items, and control the states of individual features.
In some cases, features and experiences may go out to the Canary Channel first before going out to the Dev Channel however the Dev Channel will provide better platform stability. As we get closer to shipping, some features and experiences will also make their way to the Beta Channel when they are ready.
The desktop watermark you see at the lower right corner of your desktop is normal for these pre-release builds.
Important Insider Links
Check out Flight Hub for a complete look at what build is in which Insider channel.
Thanks,
Amanda & Brandon
Source: https://blogs.windows.com/windows-insider/2023/04/07/announcing-windows-11-insider-preview-build-23430/