Hello Windows Insiders, today we are releasing Windows 11 Insider Preview Build 23424 to the Dev Channel.
What's new in Build 23424
Evolved Widgets Board
We are beginning to preview a revamp of the widgets board experience with a larger canvas (3-columns if supported by the device) and new zones to provide users quick access to glanceable widgets from their apps and services as well as enable users to take a high-value break with their personalized feed.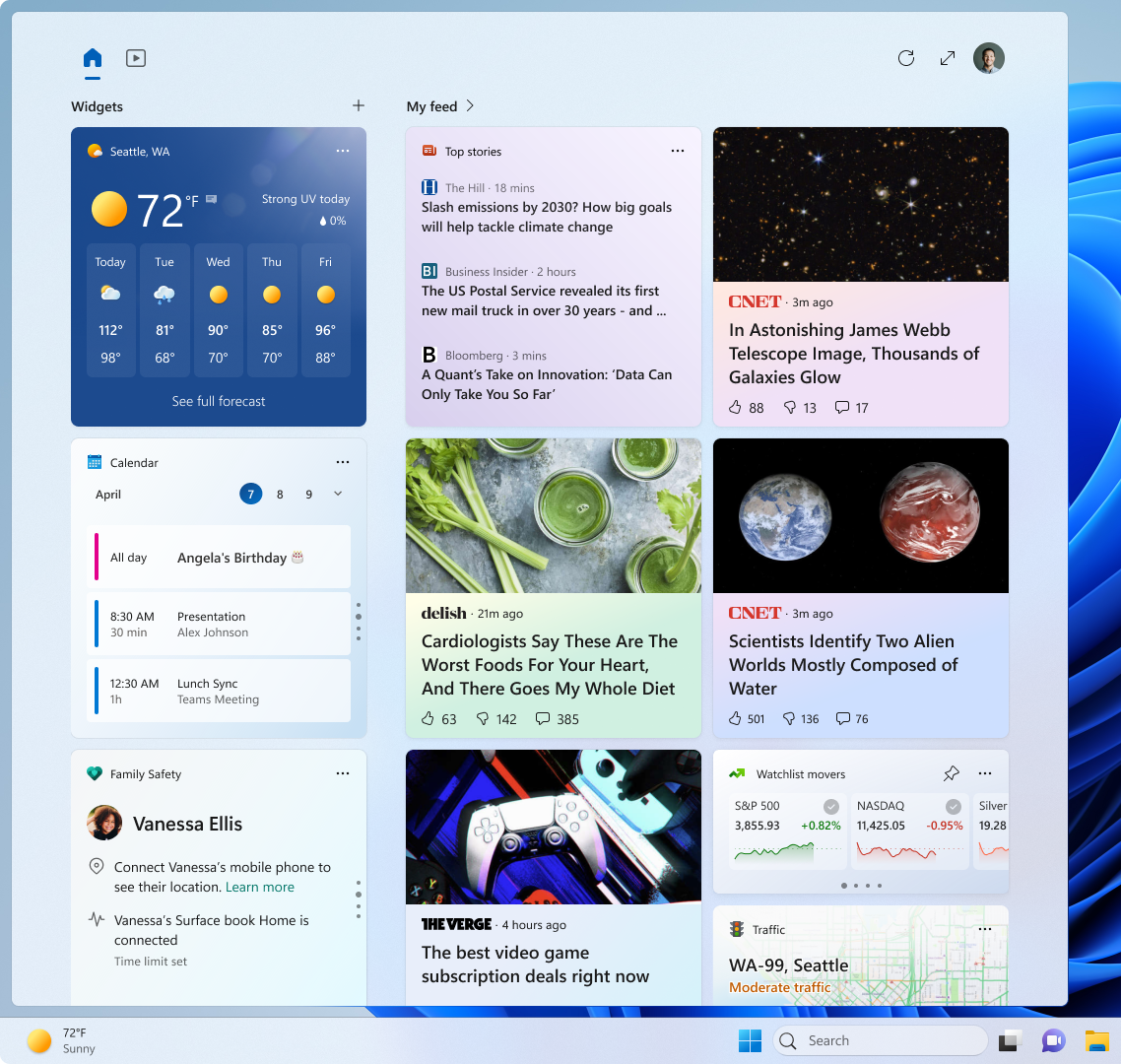 [We are beginning to roll this out, so the experience isn't available to all Insiders in the Dev Channel just yet as we plan to monitor feedback and see how it lands before pushing it out to everyone.]
FEEDBACK: Please file feedback in Feedback Hub (WIN + F) under Desktop Environment > Widgets.
Content Adaptive Brightness Control (CABC) on plugged in devices including desktop PCs
Content Adaptive Brightness Control (CABC) is already a feature that users are familiar with. This feature in Windows 11 will dim or brighten areas of a display or monitor based on the content being displayed with the goal of striking a balance between reduced power consumption with visual experience to save battery life. Starting with this build, we are allowing this feature to run on devices such as laptops and 2-in-1's that are plugged into a charger, as well as on desktop PCs. For most users, this change won't be noticeable and should reduce energy consumption.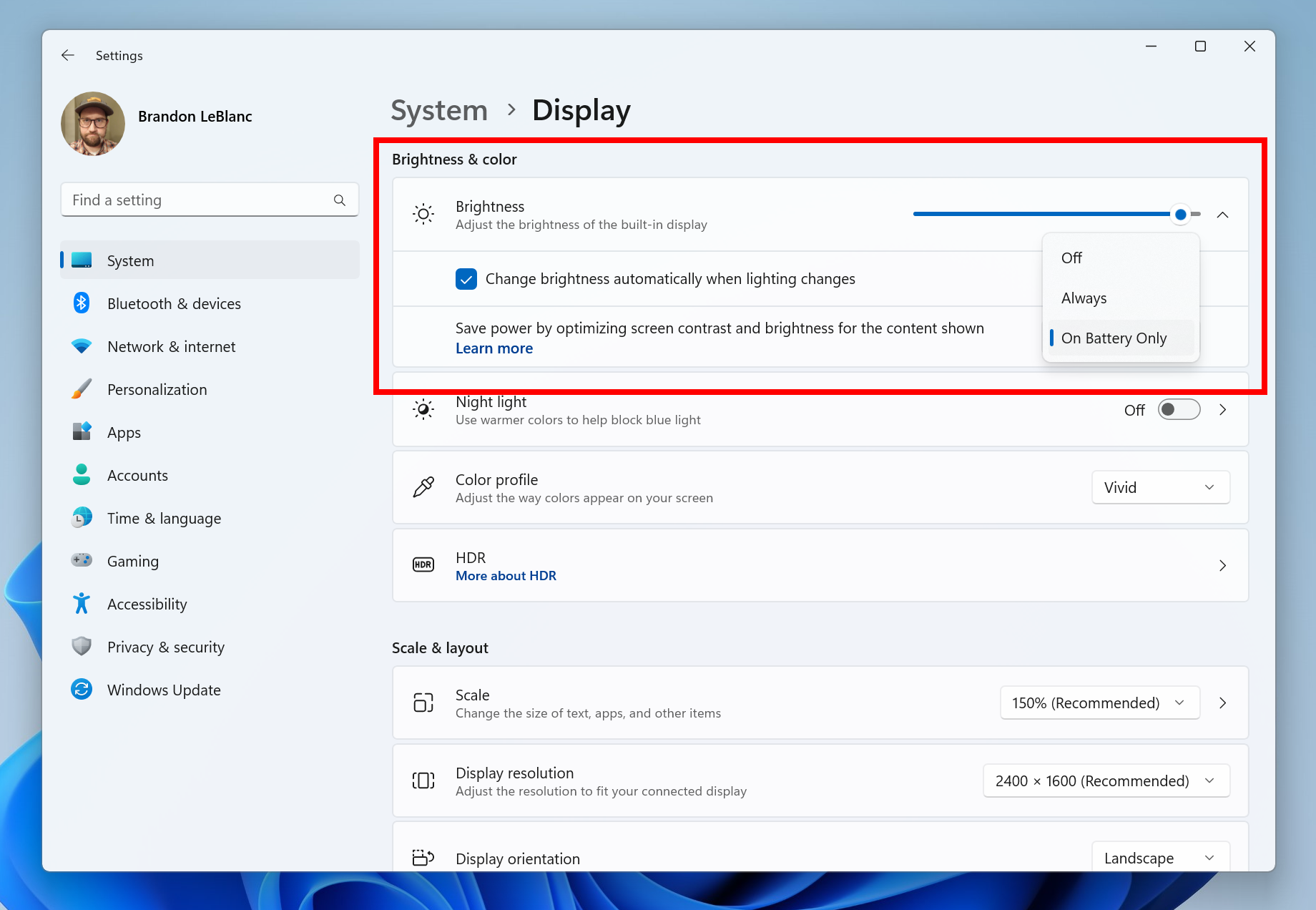 This feature can be adjusted via Settings > System > Display under "Brightness & color" and through a drop-down menu with 3 options: Off, Always, and "On Battery Only". For battery powered devices such as laptops and 2-in-1's, the default is "On Battery Only". On desktop PCs, this is off by default. We encourage Insiders across laptops, 2-in1's, and desktop PCs to try the  "Always" option and give us feedback on the visual quality of CABC so we can ensure it is properly tuned.
FEEDBACK: Please file feedback in Feedback Hub (WIN + F) under Display and Graphics > Adaptive Brightness.
Changes and Improvements
[Input]
Made a change to help improve performance when using a high polling mouse while gaming.
[Settings]
Windows Insiders can help us preview a new experience we're working on. Insiders will begin to see a new toggle under Settings > Windows Update for "getting the latest updates as soon as they are available". This new toggle is meant to be used in the Beta Channel to allow Insiders to switch more seamlessly to the enablement package. But because the Dev Channel does not use an enablement package, turning this toggle on will not do anything for Insiders in the Dev Channel. However, by turning it on, a "Windows configuration update" will be offered via Windows Update that is designed to help us make sure this new toggle is connected to our backend services correctly before making it available in the Beta Channel. This update introduces nothing new for Insiders.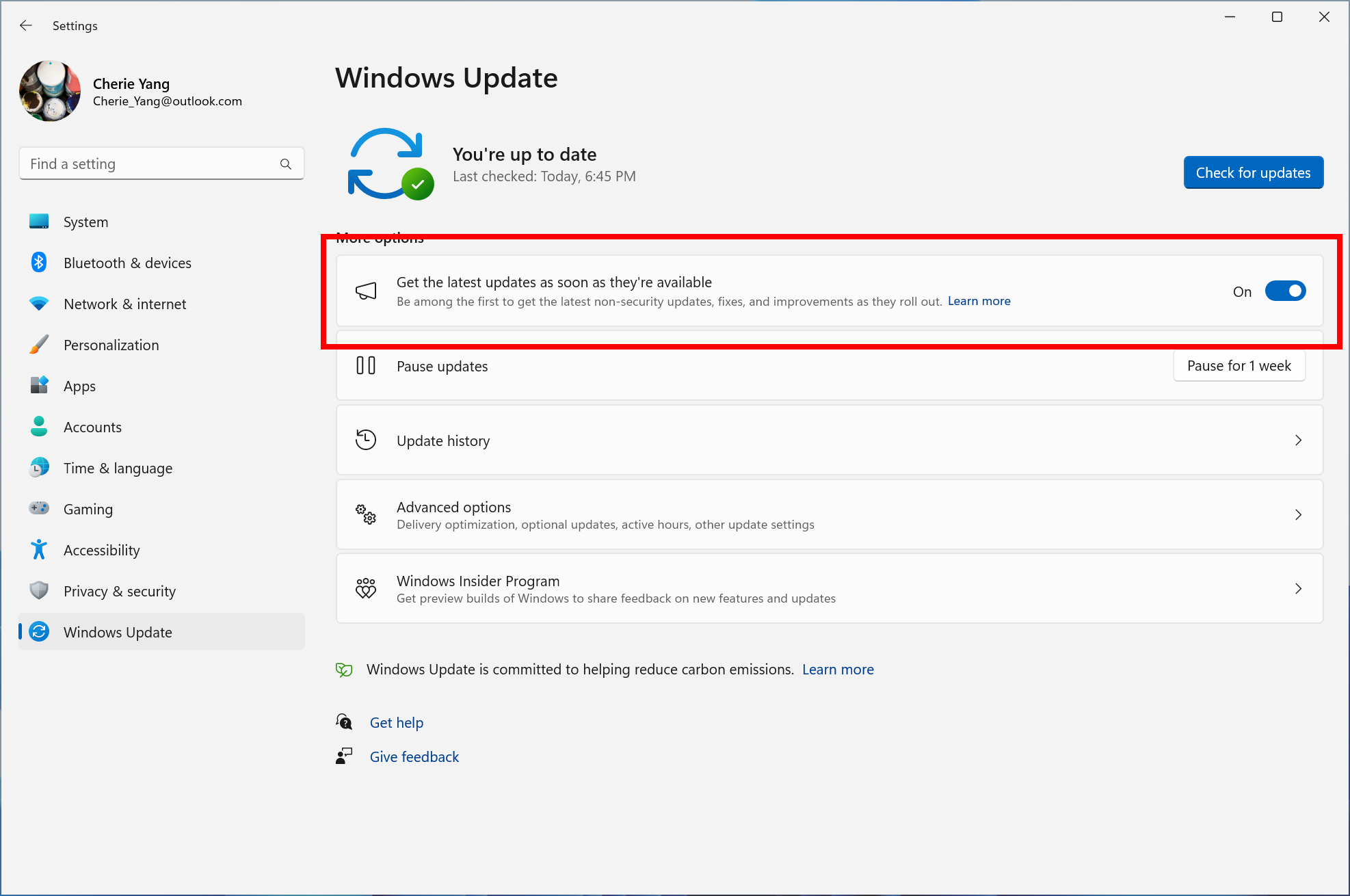 Improved the performance of search within Settings.
The settings page for wheel devices such as the Surface Dial has been updated to better match the Windows 11 design principles.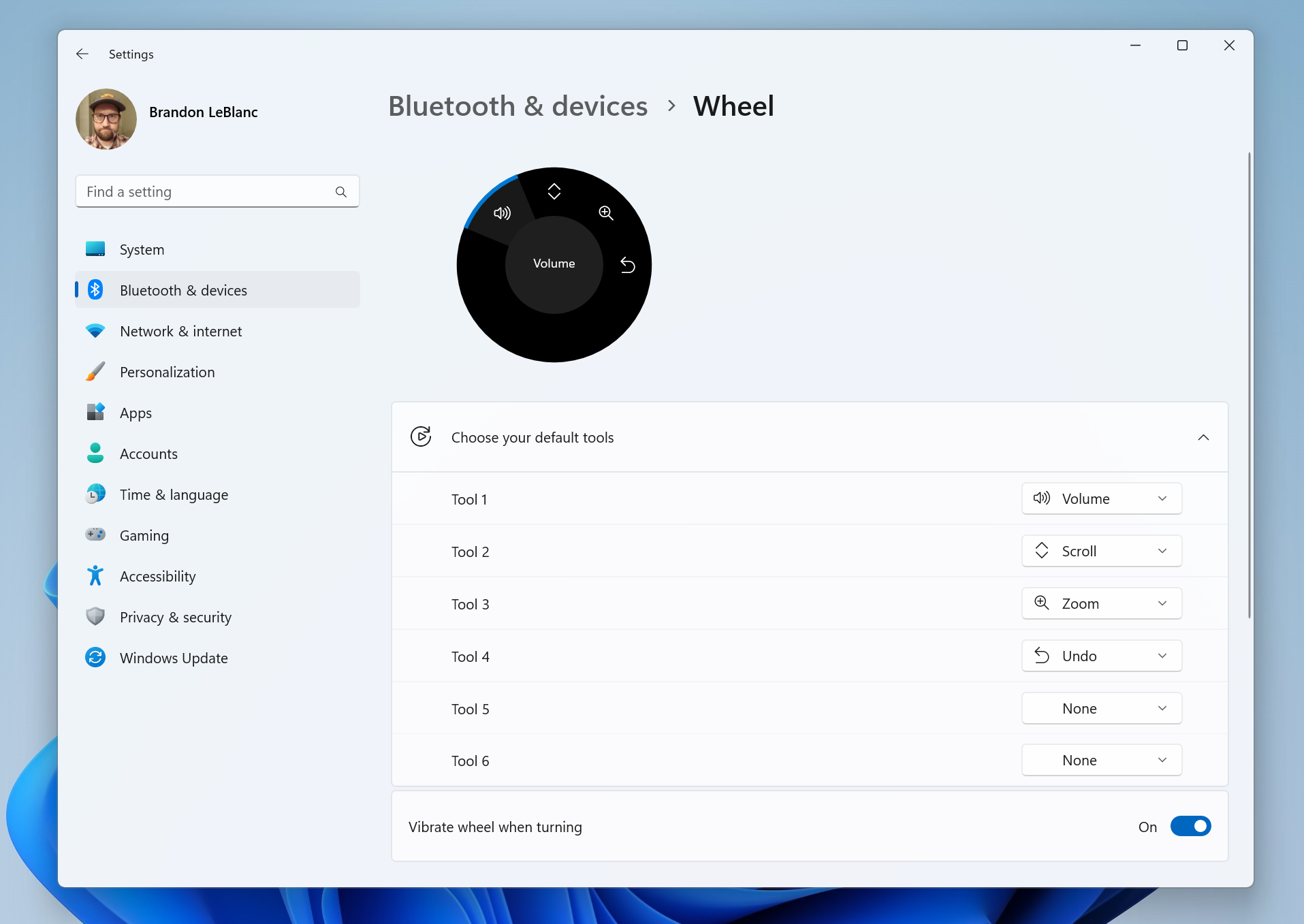 Fixes
[General]
Fixed an issue that was causing voice access to take some time to turn on after using the wake-up command.
[File Explorer]
We fixed the following issues for Insiders with recommended files in File Explorer:
We fixed the issue causing an error dialog to pop up when clicking on the "Open File Location" command.
We fixed the issue causing no action to occur when clicking on the 'Remove from list' command.
[Input]
Made a change to help improve performance when using a high report rate mouse while gaming. As a reminder, if you have gaming performance feedback, please follow these steps to file actionable feedback.
[Settings]
Improved the performance of search within Settings.
[Windowing]
Fixed an issue from the last flight where Microsoft Edge tabs would show when doing ALT + Tab even if Settings > System > Multitasking was set to "Don't show tabs".
[Task Manager]
Fixed an issue where the search icon could end up overlapping the Task Manager icon in the title bar.
NOTE: Some fixes noted here in Insider Preview builds from the Dev Channel may make their way into the servicing updates for the released version of Windows 11.
Known issues
[Search on the Taskbar]
There is an issue where some people may not see the search box on the taskbar and/or the settings to adjust the search box experience on the taskbar after updating to Build 23403. We are aware of the issue, and we are working on a fix.
If you have the Bing button in the search box on the taskbar and you restart your computer, you may see the daily rotating search highlight for some time before getting the Bing button back.
[File Explorer]
Insiders who have access keys in File Explorer:
Access keys will appear inconsistently if no button is pressed. Pressing a button will cause them to reappear.
Insiders will have issues with the following commands on recommended files in File Explorer:
Clicking on the Share command will currently bring up the Windows share sheet (non-OneDrive).
[Live captions]
On ARM64 devices, enhanced speech recognition support installed through the Language & Region settings page will require restarting live captions if you switch languages in the live captions Caption language menu.
Certain languages shown on the Language & Region settings page will indicate speech recognition support (e.g., Korean) but don't yet have support for live captions.
When adding a language through the Language & Region settings page, language feature installation progress may become hidden, and you may not see install completion of "Enhanced speech recognition" (required by Live Captions). (You can use the language's "Language options" to monitor progress.) If this happens, there may be an unexpected delay before the live caption setup experience detects this and lets you continue.
Captioning performance may be degraded in non-English languages and missing out-of-language filtering in non-English (United States) languages which means that incorrect captions will be shown for speech not in the caption language.
Microsoft Store Update
Windows Insiders in the Canary and Dev Channels running version 22303.1401.x of the Microsoft Store and higher will see the following improvements rolling out:
Install free apps and games from search results: We've introduced a new way to install free apps and games. Hovering over a free product on the search results page opens a new expanded card experience, where you can find a convenient install button. This will trigger the installation without having to navigate into the product page.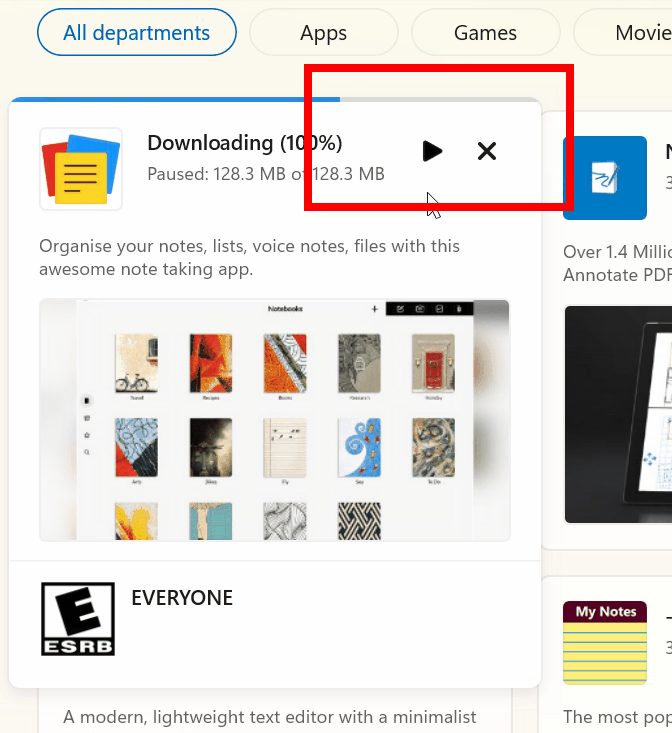 New design when purchasing apps and games in the Store: Discover a new and redesigned experience when purchasing apps and games inside the Microsoft Store! The purchase dialog's styles align better with Windows 11 to bring you a more pleasant checkout experience.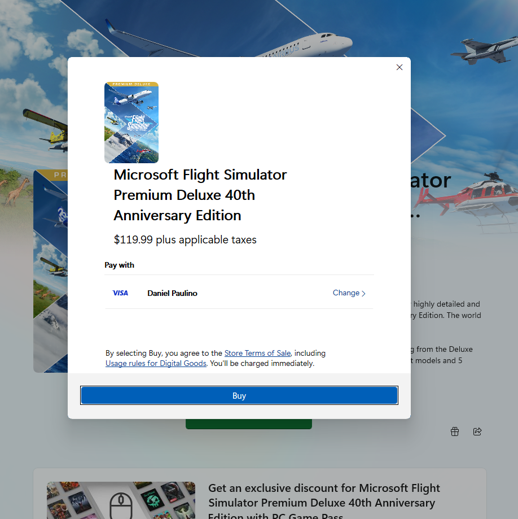 New UX for in-app ratings dialog: Developers of your favorite apps and games often use a Microsoft Store feature that requests ratings from within the app or game. We've updated this in-app ratings experience to be faster, more reliable, and to better align with Windows 11 styling.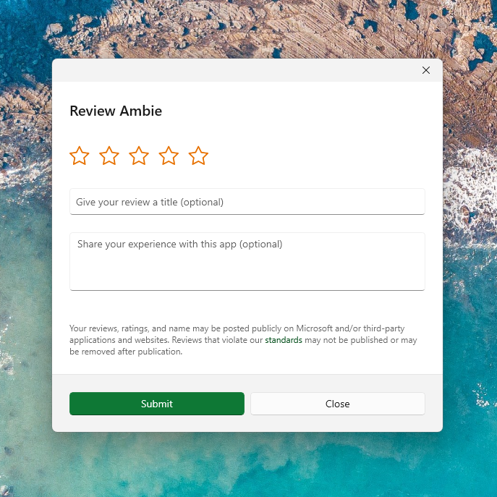 FEEDBACK: Please file feedback in Feedback Hub (WIN + F) under Microsoft Store.
For developers
You can download the latest Windows Insider SDK at aka.ms/windowsinsidersdk.
SDK NuGet packages are now also flighting at NuGet Gallery | WindowsSDK which include:
These NuGet packages provide more granular access to the SDK and better integration in CI/CD pipelines.
SDK flights are now published for both the Canary and Dev Channels, so be sure to choose the right version for your Insider Channel.
Remember to use adaptive code when targeting new APIs to make sure your app runs on all customer machines, particularly when building against the Dev Channel SDK. Feature detection is recommended over OS version checks, as OS version checks are unreliable and will not work as expected in all cases.
About the Dev Channel
REMINDER: The Dev Channel has been rebooted. Windows Insiders who were in the Dev Channel on 25000 series builds are being moved to the new Canary Channel. Going forward, the Dev Channel will receive 23000 series builds. Insiders who were moved to the Canary Channel and want to move back to the Dev Channel can follow these instructions to do a clean installation of Windows 11 and then re-join the Dev Channel to receive 23000 series builds.
The Dev Channel receives builds that represent long lead work from our engineers with features and experiences that may never get released as we try out different concepts and get feedback. It is important to remember that the builds we release to the Dev Channel should not be seen as matched to any specific release of Windows and the features included may change over time, be removed, or replaced in Insider builds or may never be released beyond Windows Insiders to general customers. For more information, please read this blog post about how we plan to use the Dev Channel to incubate new ideas, work on long lead items, and control the states of individual features.
In some cases, features and experiences may go out to the Canary Channel first before going out to the Dev Channel however the Dev Channel will provide better platform stability. As we get closer to shipping, some features and experiences will also make their way to the Beta Channel when they are ready.
The desktop watermark you see at the lower right corner of your desktop is normal for these pre-release builds.
Important Insider Links
Check out Flight Hub for a complete look at what build is in which Insider channel.
Thanks,
Amanda & Brandon
Source: https://blogs.windows.com/windows-insider/2023/03/30/announcing-windows-11-insider-preview-build-23424/