Hello Windows Insiders, today we are releasing Windows 11 Insider Preview Build 22621.1610 and Build 22624.1610 (KB5025299) to the Beta Channel.
Build 22624.1610 = New features rolling out.
Build 22621.1610 = New features off by default.
REMINDER: Insiders who were previously on Build 22623 will automatically get moved to Build 22624 via an enablement package. The enablement package artificially increments the build number for the update with new features getting rolled out and turned on to make it easier to differentiate from devices with the update with features off by default. This approach is being used for the Beta Channel only and is not indicative of any changes or plans for final feature rollouts.
Insiders who landed in the group with new features turned off by default (Build 22621.xxxx) can check for updates and choose to install the update that will have features rolling out (Build 22624.xxxx).
Changes and Improvements in Build 22624.1610
[Settings]
We are introducing new presence sensor privacy settings and APIs. If you have a device with compatible presence sensors, you can now manage your privacy and block/allow certain apps from accessing these sensors. No images or metadata is collected by Microsoft and all processing is done locally on the device hardware to maximize privacy. You will find these settings under Settings > Privacy & security > Presence sensing here if your device supports it. App developers with devices with compatible presence sensors can target apps to request and read user presence information after requesting a human presence capability. Learn more about the API here.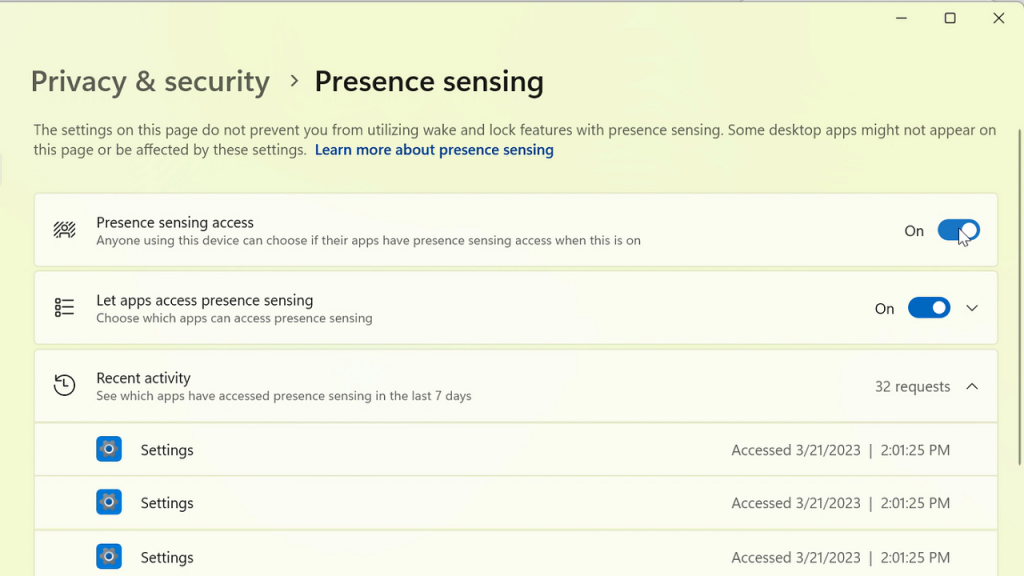 Changes and Improvements in BOTH Build 22621.1610 & Build 22624.1610
[Settings]
Windows Insiders can help us preview a new experience we're working on. Insiders will begin to see a new toggle under Settings > Windows Update for "getting the latest updates as soon as they are available". This new toggle is meant to be used in the Beta Channel to allow Insiders to switch more seamlessly to the enablement package. Insiders in the Beta Channel who are on Build 22621 and toggle this on will get updated to Build 22624 via the enablement package. Insiders in the Beta Channel already on Build 22624 and toggle this on will see a "Windows configuration update" offered via Windows Update that is designed to help us make sure this new toggle is connected to our backend services correctly. This configuration update introduces nothing new for Insiders.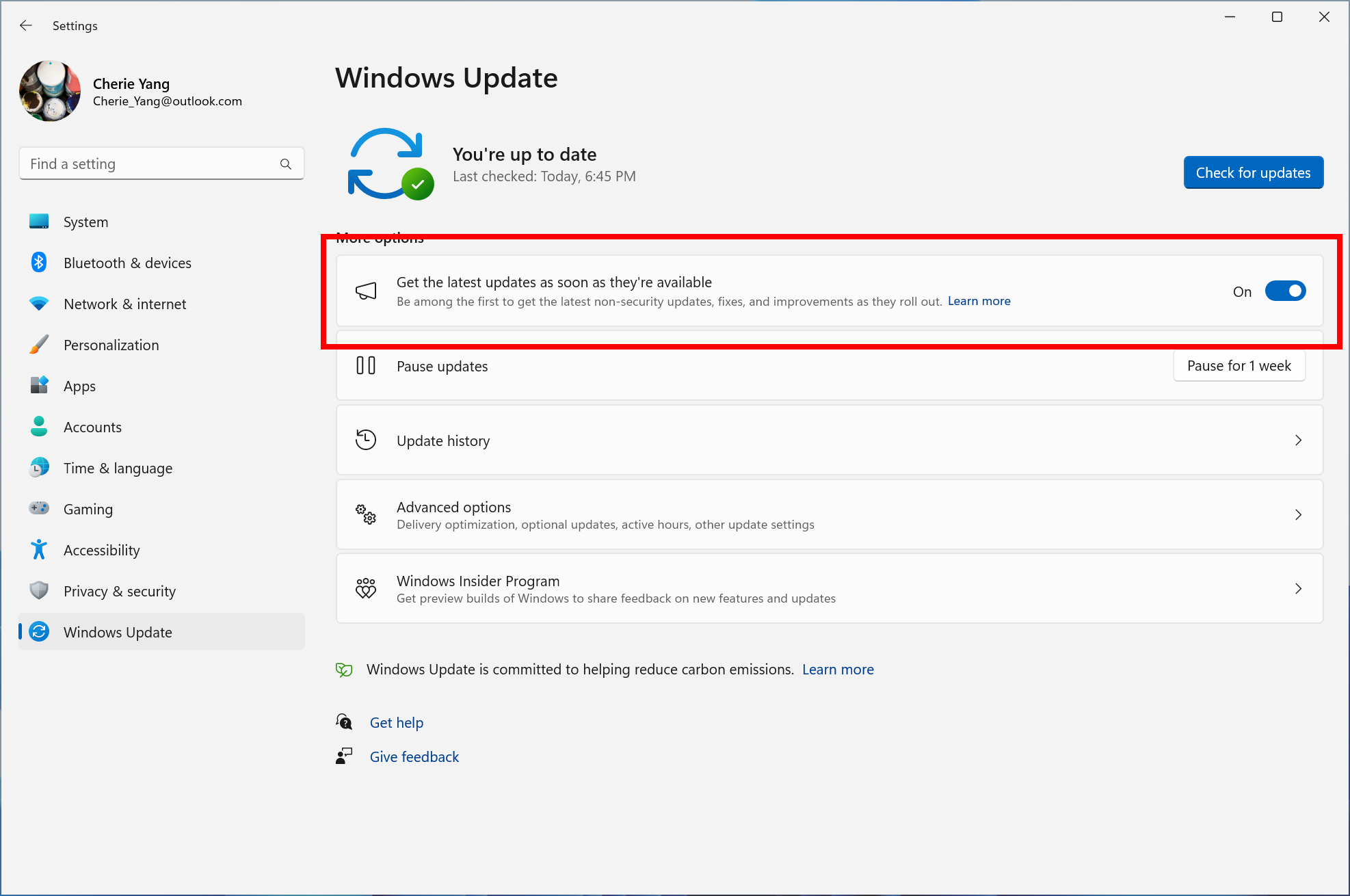 Fixes in Build 22624.1610
[General]
Fixed an underlying issue which was causing a noticeable increase in explorer.exe crashes in the last flight for some Insiders.
Fixes for BOTH Build 22621.1610 & Build 22624.1610
This update addresses a compatibility issue. The issue occurs because of unsupported use of the registry.
Known issues
[Search on the Taskbar]
If you have the Bing button in the search box on the taskbar and you restart your computer, you may see the daily rotating search highlight for some time before getting the Bing button back.
[File Explorer]
Insiders who have access keys in File Explorer:
Shift + Right click on a file or folder is not opening "Show more options".
[Live captions]
On ARM64 devices, enhanced speech recognition support installed through the Language & Region settings page will require restarting live captions if you switch languages in the live captions Caption language menu.
[NEW] Live captions will crash on first launch due to an issue impacting registry data retrieval. A new fix is expected very soon.
Certain languages shown on the Language & Region settings page will indicate speech recognition support (e.g., Korean) but don't yet have support for live captions.
When adding a language through the Language & Region settings page, language feature installation progress may become hidden, and you may not see install completion of "Enhanced speech recognition" (required by Live Captions). (You can use the language's "Language options" to monitor progress.) If this happens, there may be an unexpected delay before the live caption setup experience detects this and lets you continue.
Captioning performance may be degraded in non-English languages and missing out-of-language filtering in non-English (United States) languages which means that incorrect captions will be shown for speech not in the caption language.
About the Beta Channel
The Beta Channel is the place we preview experiences that are closer to what we will ship to our general customers. Because the Dev and Beta Channels represent parallel development paths from our engineers, there may be cases where features and experiences show up in the Beta Channel first. However, this does not mean every feature we try out in the Beta Channel will ship. We encourage Insiders to read this blog post that outlines the ways we'll try things out with Insiders in both the Dev and Beta Channels.
Important Insider Links
Want to learn how we made Windows 11? Check out our Inside Windows 11 website to hear and meet our makers from Engineering, Design and Research to share their insights and unique perspectives throughout this journey.
Check out Flight Hub for a complete look at what build is in which Insider channel.
Thanks,
Amanda & Brandon
Source: https://blogs.windows.com/windows-insider/2023/04/13/announcing-windows-11-insider-preview-build-22621-1610-and-22624-1610/