Hello Windows Insiders, today we are releasing Windows 11 Insider Preview Build 25276 to the Dev Channel.
TL;DR
We are releasing ISOs for this build – they can be downloaded here.
The build includes a change for Task Manager, improvements to the Settings account page, and a good set of improvements and fixes for Windows Insiders.
Previews of the Apple Music, Apple TV and Apple Devices apps are available in the Microsoft Store on Windows 11, limited to the U.S. We look forward to hearing your feedback.
We are replacing the Network Troubleshooter in the OS with a new network connectivity troubleshooting experience through the Get Help app – details below.
What's new
Create live kernel memory dumps in Task Manager
We are introducing a set of new developer-focused features in Task Manager to aid the collection of live kernel memory dumps (LKDs). This is in addition to the existing "Memory dump" for user mode processes. The goal of kernel live dump is to gather data to troubleshoot an abnormal situation but allow the OS to continue operation. This reduces downtime when compared to a bug check for "non-fatal" but high-impact failures and hangs. Click here for more info on live kernel dumps.
To capture a live kernel memory dump (LKD), go to the Details page in Task Manager, right-click on the System process and the context menu should light up to show "Create live kernel memory dump file" to capture a Full live kernel or Kernel stack memory dumps.
The dumps will be written to a fixed location:
%LocalAppData%\Microsoft\Windows\TaskManager\LiveKernelDumps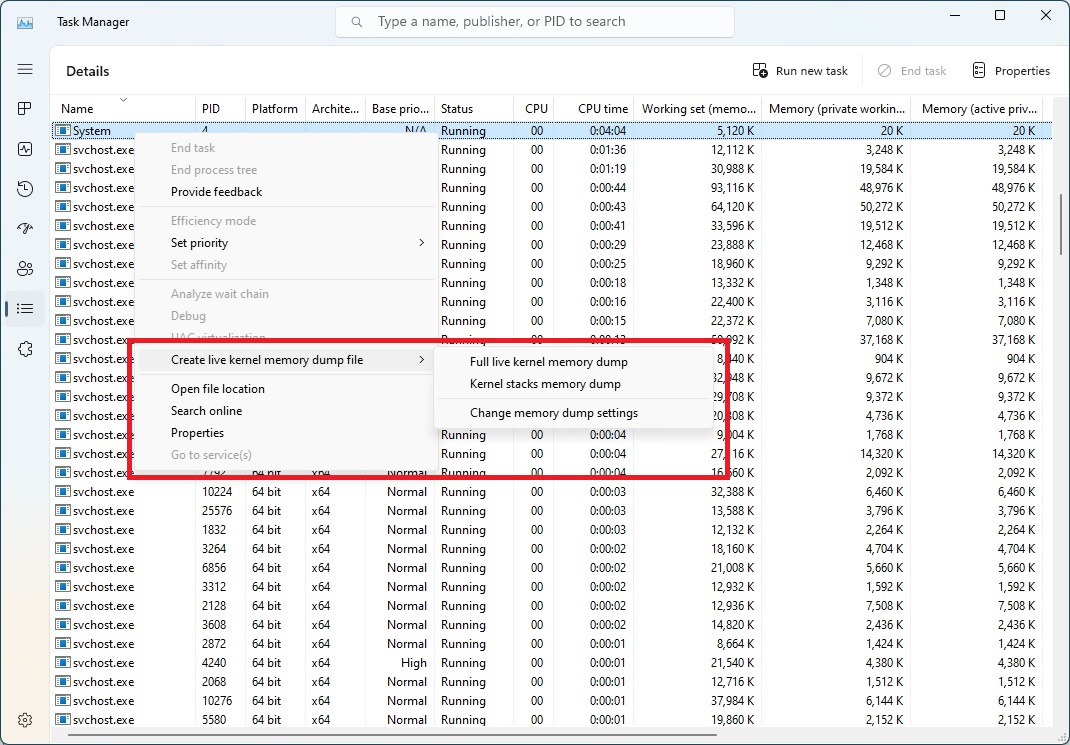 You can also go to the Task Manager Settings page to view/edit the settings for live kernel memory dumps.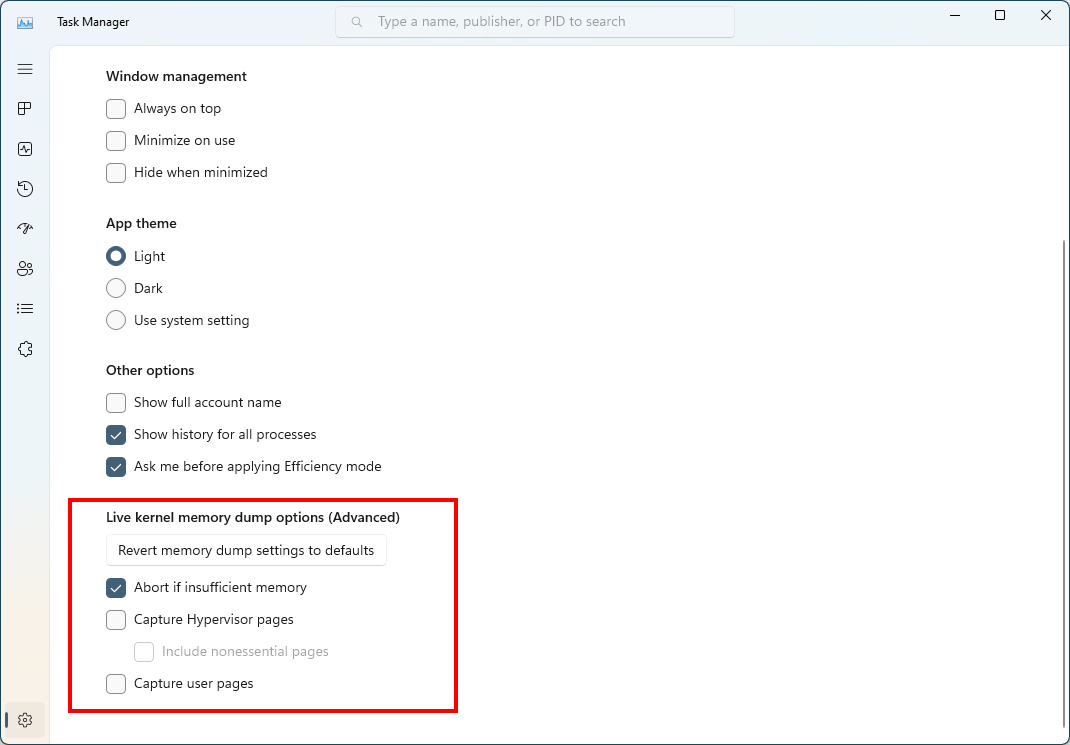 [We are beginning to roll this feature out, so it isn't available to all Insiders in the Dev Channel just yet as we plan to monitor feedback and see how it lands before pushing it out to everyone.]
FEEDBACK: Please file feedback in Feedback Hub (WIN + F) under Desktop Environment > Task Manager.
Updates to your cloud storage in settings for Windows 11
In November, we introduced a visual overview of your cloud storage usage in Settings app. As we mentioned here, you will see updates to the Microsoft 365 apps and service data included in your cloud storage. Outlook attachment data will be included in your cloud storage as displayed on the visual with today's build. This change will gradually roll out starting with a small number of insiders, so not everyone will see it right away. You may see an alert regarding your storage usage; however, it does not impact your storage amount as early as February 1st, 2023. Learn more about cloud storage here.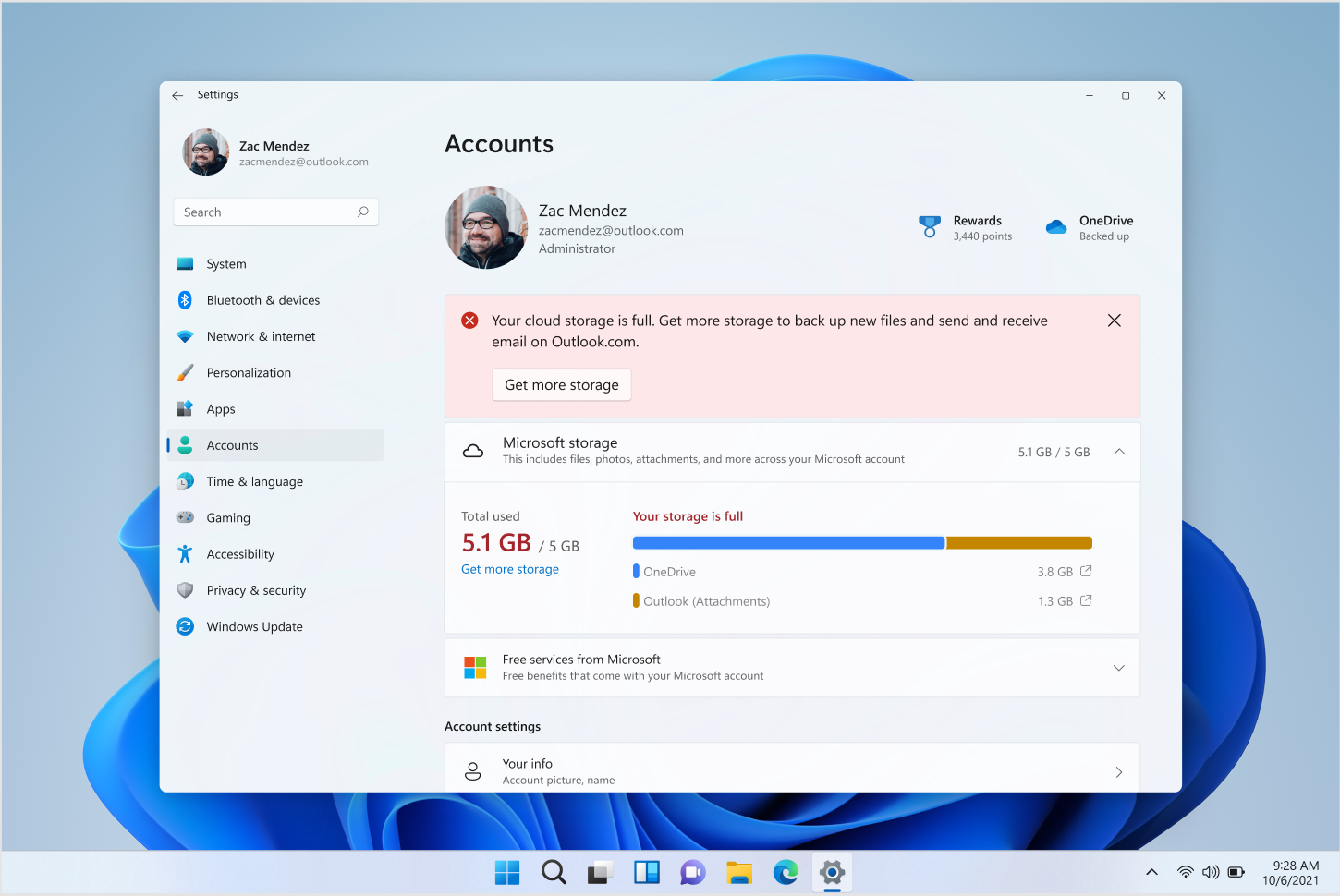 FEEDBACK: Please file feedback in Feedback Hub (WIN + F) under Settings > User Profile Account Settings.
Changes and Improvements
[General]
We have updated the dialog that shows when an app has a known compatibility issue to use the new Windows 11 design. The dialog is a work-in-progress, and you may see issues with it in dark theme. As always, file feedback in Feedback Hub for any issues you might see.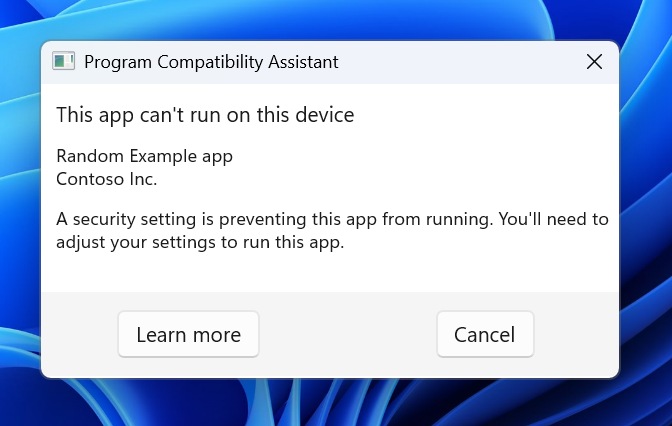 [Start]
[ADDED] The search box design in the Start menu has been updated with more rounded corners to reflect the design of the search box on the taskbar.

[Windows Security]
We are temporarily disabling the updated the Windows Security (firewall) notification dialogs that match the Windows 11 visuals that we introduced with Build 25267. We plan to re-introduce this change in a future flight after addressing some bugs.
Windows 11 Insider Preview Build 25267 and later Pro editions no longer allow a user to connect to a remote share by using guest credentials by default, even if the remote server requests guest credentials. This matches the stronger security of the Enterprise and Education editions that's been in place since Windows 10, to further improve Windows 11 default security. For more information on this behavior and to configure insecure guest authentication to a third party SMB server device that only supports guest authentication, review this documentation.
Fixes
[Taskbar & System Tray]
Fixed an issue where switching windows through taskbar previews wasn't working.
Fixed multiple explorer.exe crashes affecting the system tray.
When opening a flyout from the taskbar, pressing the Esc key to close the flyout should now return keyboard focus to the button it was invoked from.
[Search on the Taskbar]
The fixes only apply for Windows Insiders who received one of the different treatments for how search looks on the taskbar that began rolling out to Insiders with Build 25252:
We fixed the layout issues with the text in the search box on taskbar when using right-to-left display languages like Arabic.
Fixed an issue where the selected search style in Taskbar Settings wasn't persisting across updates. This setting should persist now on subsequent Insider Preview build upgrades.
[File Explorer]
Fixed an explorer.exe crash which could happen when opening File Explorer, related to loading your recent files.
[Voice access]
Voice access will now work correctly for entering numbers in the Calculator app.
Fixed a crash when giving move left and right commands with voice access.
[Input]
Fixed an issue where the "insert text" button wasn't working when using the Pinyin IME in double pinyin mode.
[Widgets]
Fixed an issue where the widgets board will get stuck open in an invisible state for Insiders in China (and potentially others), causing clicks on the left side of the screen to not work. If you're continuing to experience this, please make sure to check the Microsoft Store for the latest app updates.
[Other]
To improve clarity, when Windows Defender Credential Guard is enabled, when attempting to use remote desktop with default credentials, it will now explicitly say "Windows Defender Credential Guard does not allow using Windows logon credentials. Please enter your credentials".
NOTE: Some fixes noted here in Insider Preview builds from the Dev Channel may make their way into the servicing updates for the released version of Windows 11.
Known issues
[General]
Using Windows Hello to sign in with facial recognition may not work on Arm64 PCs. A workaround for this is to use the Hello PIN path.
[NEW] Some users are experiencing longer than expected update times installing recent builds. We are actively investigating this issue.
[NEW] We're investigating reports that some Insiders are experiencing freezes when using the browser and certain other apps after the previous Dev Channel flight.
[Taskbar & System Tray]
The taskbar is sometimes cropped in half when using the tablet-optimized taskbar. You may also see this issue on secondary monitors.
[Search on the Taskbar]
The following known issues only apply for Windows Insiders who received one of the different treatments for how search looks on the taskbar that began rolling out to Insiders with Build 25252:
There is an issue where you will be unable to change taskbar search box to show as icon only via taskbar settings in some cases. To work around this issue, first change to a different option and then after, you should be able to choose to show as icon only.
[Task Manager]
Some dialogs may not render in the correct theme when applied from Task Manager Settings page.
The data content area of the Processes page may flash once when theme changes are applied in the Task Manager Settings page.
[Widgets]
In right-to-left display languages like Arabic, content animates out of view before the widgets board resizes when clicking to expanded view of the widgets board.
For developers
You can download the latest Windows Insider SDK at aka.ms/windowsinsidersdk.
SDK NuGet packages are now also flighting at NuGet Gallery | WindowsSDK which include:
These NuGet packages provide more granular access to the SDK and better integration in CI/CD pipelines.
Get Help app: Troubleshoot network issues
Getting disconnected from the internet hurts productivity at work and relaxation at home. To help you get back online we're replacing the Network Troubleshooter in the OS with a modern Get Help based experience. With new APIs that diagnose problems and offer specific recommendations to get online, the app targets the 30 most common connectivity issues. To use the new experience, you will need Get Help app version 10.2208.2551.0 or greater.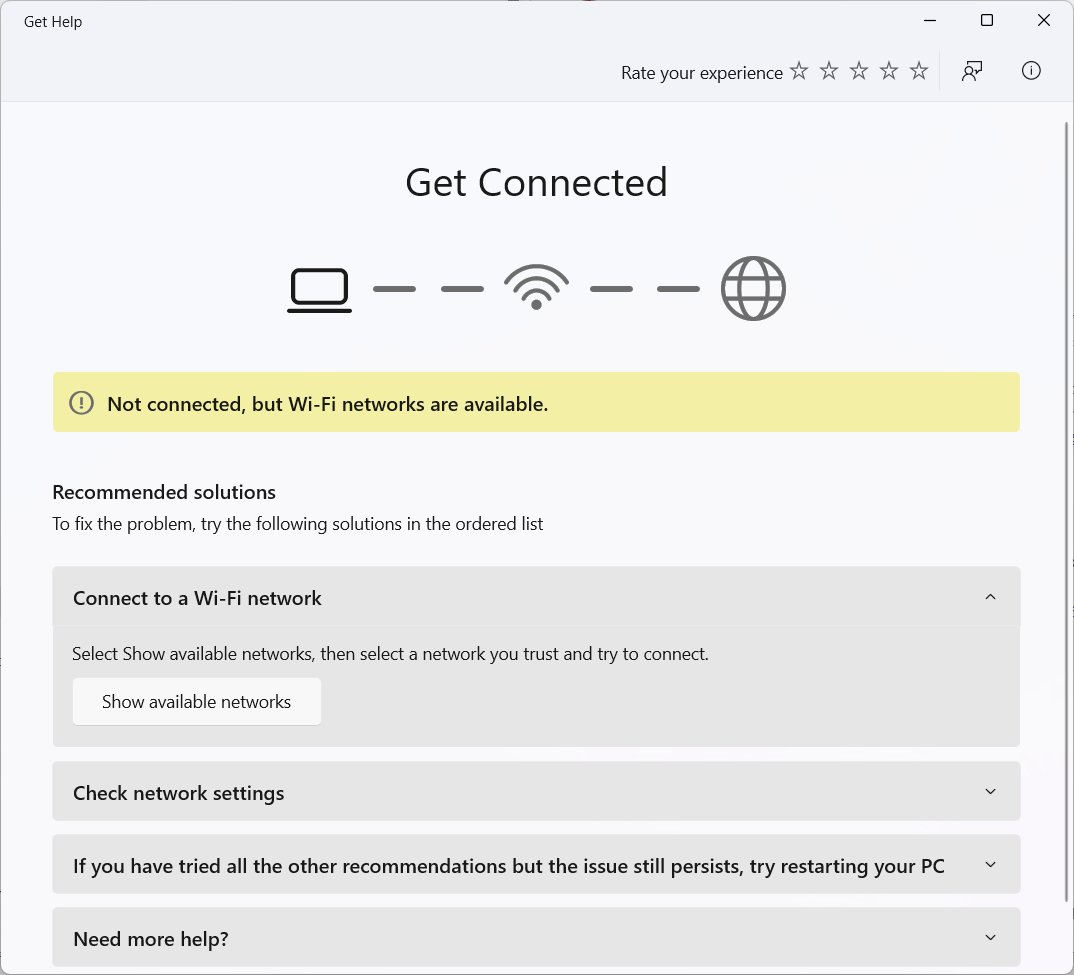 About the Dev Channel
The Dev Channel receives builds that represent long lead work from our engineers with features and experiences that may never get released as we try out different concepts and get feedback. It is important to remember that the builds we release to the Dev Channel should not be seen as matched to any specific release of Windows and the features included may change over time, be removed, or replaced in Insider builds or may never be released beyond Windows Insiders to general customers. For more information, please read this blog post about how we plan to use the Dev Channel to incubate new ideas, work on long lead items, and control the states of individual features.
These aren't always stable builds, and sometimes you will see issues that block key activities or require workarounds. It is important to make sure you read the known issues listed in our blog posts as we document many of these issues with each flight.
Build numbers are higher in the Dev Channel than the Windows 11 preview builds in the Beta and Release Preview Channels. You will not be able to switch from the Dev Channel to the Beta or Release Preview Channels without doing a clean install back to the released version of Windows 11 currently.
ALSO: Because the Dev and Beta Channels represent parallel development paths from our engineers, there may be cases where features and experiences show up in the Beta Channel first.
The desktop watermark you see at the lower right corner of your desktop is normal for these pre-release builds.
Important Insider Links
Check out Flight Hub for a complete look at what build is in which Insider channel.
Thanks,
Amanda & Brandon
Source: https://blogs.windows.com/windows-insider/2023/01/12/announcing-windows-11-insider-preview-build-25276/