Hello Windows Insiders, today we are releasing Windows 11 Insider Preview Build 22621.1690 and Build 22624.1690 (KB5026447) to the Beta Channel.
Build 22624.1690 = New features rolling out.
Build 22621.1690 = New features off by default.
REMINDER: Insiders who were previously on Build 22623 will automatically get moved to Build 22624 via an enablement package. The enablement package artificially increments the build number for the update with new features getting rolled out and turned on to make it easier to differentiate from devices with the update with features off by default. This approach is being used for the Beta Channel only and is not indicative of any changes or plans for final feature rollouts.
Insiders who landed in the group with new features turned off by default (Build 22621.xxxx) can check for updates and choose to install the update that will have features rolling out (Build 22624.xxxx).
What's new in Build 22621.1690 & Build 22624.1690
New Widget: Facebook
Facebook is rolling out a preview version of their widget. To give it a try, download the Facebook app from the Microsoft Store or update to the latest version of the app. Then open the widgets board and navigate to the widgets picker by clicking the "+" button at the top-right of the board to pin your widget.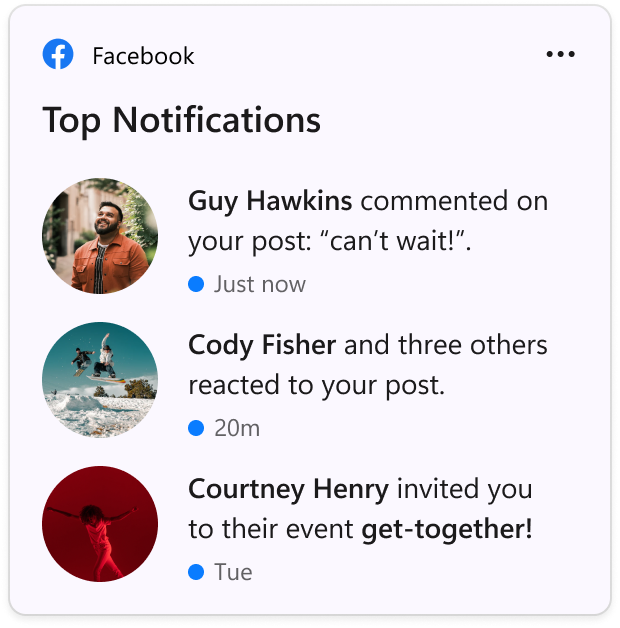 As you give this and other new widgets a try, please let us know what you think through the Widgets feedback link in the widgets picker. You should expect to see additional new widgets as more developers create and release widgets for their apps.
If you're a Windows developer and interested in creating a widget, watch our tutorial video here. For an overview of the Windows widgets experience and design guidance for creating your own widgets, see Windows widgets. For more information on creating a Win32 widget provider, see Widget service providers. For information on PWA widget providers, see Build PWA-driven widgets.
Changes and Improvements in Build 22621.1690 & Build 22624.1690
[General]
We are trying out providing alerts under Settings > Accounts advising users to add a recovery email address or phone number to their Microsoft account to ensure they never lose access to their account.
[Start menu]
We are trying out a small change with some Windows Insiders where the "Recommended" section of the Start menu is changed to "For you". Let us know what you think in Feedback Hub if you see this change.
Fixes in Build 22624.1690
[Input]
Made another fix for the underlying crash impacting the ability to launch the touch keyboard / PIN entry on the login screen.
[Notifications]
Fixed another 2FA code pattern which wasn't being recognized. If you see any others, please file feedback!
[Task Manager]
Did some work to help address an issue which was causing random processes to sometimes get grouped under Microsoft Edge even though they weren't related.
Fixed an issue impacting Task Manager reliability.
The search icon should be easier to see now when using a contrast theme.
Made the navigation pane a bit narrower. As part of this change, when necessary, the text will be wrapped now.
The creation of live kernel memory dump file submenu has access keys now.
Pressing enter when keyboard focus is on one of the sections (like Memory) in the Performance page should now actually switch sections.
Resizing Task Manager from the top of the window should work now.
Known issues
[Search on the Taskbar]
If you have the Bing button in the search box on the taskbar and you restart your computer, you may see the daily rotating search highlight for some time before getting the Bing button back.
[Widgets]
When you launch the widgets board for the first time, you may see momentarily placeholders of the widgets/feed cards of the old 2-column layout even if your device supports 3-columns.
About the Beta Channel
The Beta Channel is the place we preview experiences that are closer to what we will ship to our general customers. Because the Dev and Beta Channels represent parallel development paths from our engineers, there may be cases where features and experiences show up in the Beta Channel first. However, this does not mean every feature we try out in the Beta Channel will ship. We encourage Insiders to read this blog post that outlines the ways we'll try things out with Insiders in both the Dev and Beta Channels.
Important Insider Links
Want to learn how we made Windows 11? Check out our Inside Windows 11 website to hear and meet our makers from Engineering, Design and Research to share their insights and unique perspectives throughout this journey.
Check out Flight Hub for a complete look at what build is in which Insider channel.
Thanks,
Amanda & Brandon
Source: https://blogs.windows.com/windows-insider/2023/05/04/announcing-windows-11-insider-preview-build-22621-1690-and-22624-1690/