October 11, 2022—KB5018418 (OS Build 22000.1098)
For information about Windows update terminology, see the article about the types of Windows updates and the monthly quality update types. For an overview of Windows 11, version 21H2, see its update history page.
Note Follow @WindowsUpdate to find out when new content is published to the Windows release health dashboard.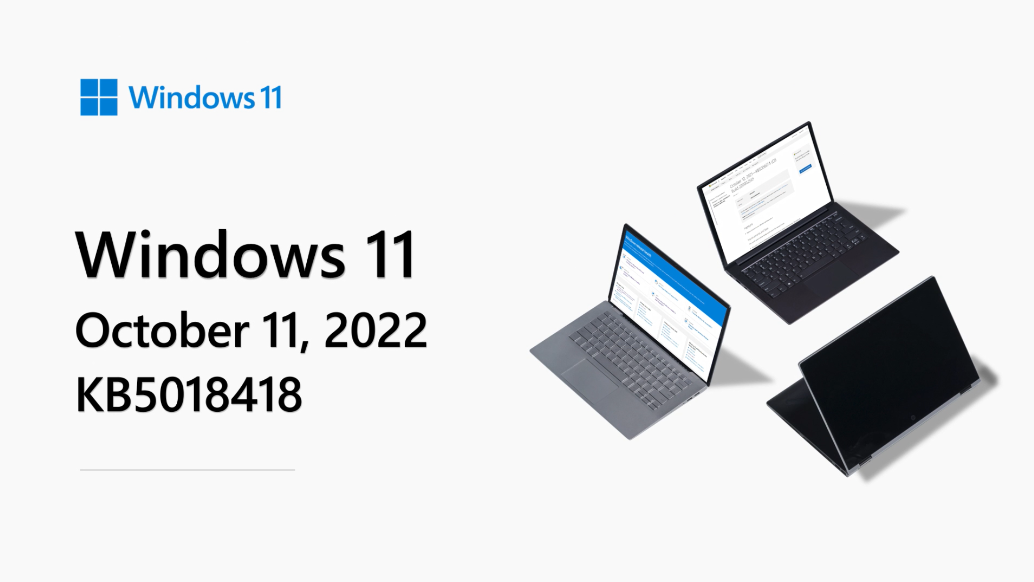 For more information on our tip this month, see How to use focus in Windows 11The release notes video is moving!  Next month, you can find us under the Windows 11, version 22H2 node of the navigation panel.  You can also find the video by visiting our new YouTube channel, Windows community.
Highlights
We address security issues for your Windows operating system.
Improvements
This security update includes improvements that were a part of update KB5017383 (released September 20, 2022). Key changes in this release include:
This update contains miscellaneous security improvements to internal OS functionality. No additional issues were documented for this release.
If you installed earlier updates, only the new updates contained in this package will be downloaded and installed on your device.
For more information about security vulnerabilities, please refer to the Security Update Guide website and the October 2022 Security Updates.
Windows 11 servicing stack update – 22000.1035This update makes quality improvements to the servicing stack, which is the component that installs Windows updates. Servicing stack updates (SSU) ensure that you have a robust and reliable servicing stack so that your devices can receive and install Microsoft updates.
Known issues in this update
Applies to
Symptom
Workaround
IT admins
After installing this update, file copies using Group Policy Preferences might fail or might create empty shortcuts or files using 0 (zero) bytes. Known affected Group Policy Objects are related to files and shortcuts in User Configuration > Preferences > Windows Settings in Group Policy Editor.

To mitigate this issue, you can do ONE of the following:

Uncheck the "Run in logged-on user's security context (user policy option)". Note: This might not mitigate the issue for items using a wildcard (*).
Within the affected Group Policy, change "Action" from "Replace" to "Update".
If a wildcard (*) is used in the location or destination, deleting the trailing "\" (backslash, without quotes) from the destination might allow the copy to be successful.

We are working on a resolution and will provide an update in an upcoming release.
How to get this update
Before installing this updateMicrosoft combines the latest servicing stack update (SSU) for your operating system with the latest cumulative update (LCU). For general information about SSUs, see Servicing stack updates and Servicing Stack Updates (SSU): Frequently Asked Questions.Install this update
Release Channel
Available
Next Step
Windows Update and Microsoft Update
Yes
None. This update will be downloaded and installed automatically from Windows Update.
Windows Update for Business
Yes
None. This update will be downloaded and installed automatically from Windows Update in accordance with configured policies.
Microsoft Update Catalog
Yes
To get the standalone package for this update, go to the Microsoft Update Catalog website.
Windows Server Update Services (WSUS)
Yes
This update will automatically sync with WSUS if you configure Products and Classifications as follows:

Product: Windows 11

Classification: Security Updates
If you want to remove the LCU
To remove the LCU after installing the combined SSU and LCU package, use the DISM/Remove-Package command line option with the LCU package name as the argument. You can find the package name by using this command: DISM /online /get-packages.
Running Windows Update Standalone Installer (wusa.exe) with the /uninstall switch on the combined package will not work because the combined package contains the SSU. You cannot remove the SSU from the system after installation.
File information
For a list of the files that are provided in this update, download the file information for cumulative update 5018418.
For a list of the files that are provided in the servicing stack update, download the file information for the SSU – version 22000.1035.
Download links
MSU file from Microsoft Update Catalog
Download KB5018418 MSU for Windows 11 v21H2 64-bit (x64) – 309.6 MB
Download KB5018418 MSU for Windows 11 v21H2 ARM64 – 425.3 MB
UUP Dump
64-bit ISO download: Select language for Windows 11 (22000.1098) amd64
ARM64 ISO download: Select language for Windows 11 (22000.1098) arm64