Hello Windows Insiders, today we are releasing Windows 11 Insider Preview Build 23590 to the Dev Channel. We are releasing ISOs for this build – they can be downloaded here.
What's new in Build 23590
Natural Voices Previews in Narrator
We are introducing previews for natural voices of 10 new locales launched in September 2023. As a reminder, those natural voices include Chinese, Spanish (Spain), Spanish (Mexico), Japanese, English (UK), French, Portuguese, English (India),German and Korean.
These previews will allow the users to listen to the natural voices before downloading the voice model. Natural Narrator voices use modern, on-device text to speech and once downloaded are supported without an internet connection. Please note to listen to the previews, an internet connection is required.
To use one of the natural voices, add it to your PC by following these steps:
Open Narrator Settings by pressing the WIN + CTRL + N hotkey.
Under Narrator's voice, select the Add button next to Add natural voices.
Select the voice you want to install. You can install all voices, but you must install them separately.
The preview will play automatically once you navigate through the list.
If you like the preview , click on "Download and Install". The new voice will be downloaded and ready for use in a few minutes, depending on your internet download speed.
When the new voice has downloaded, in Narrator settings select your preferred voice from the drop-down menu in Narrator's voice > Choose a voice.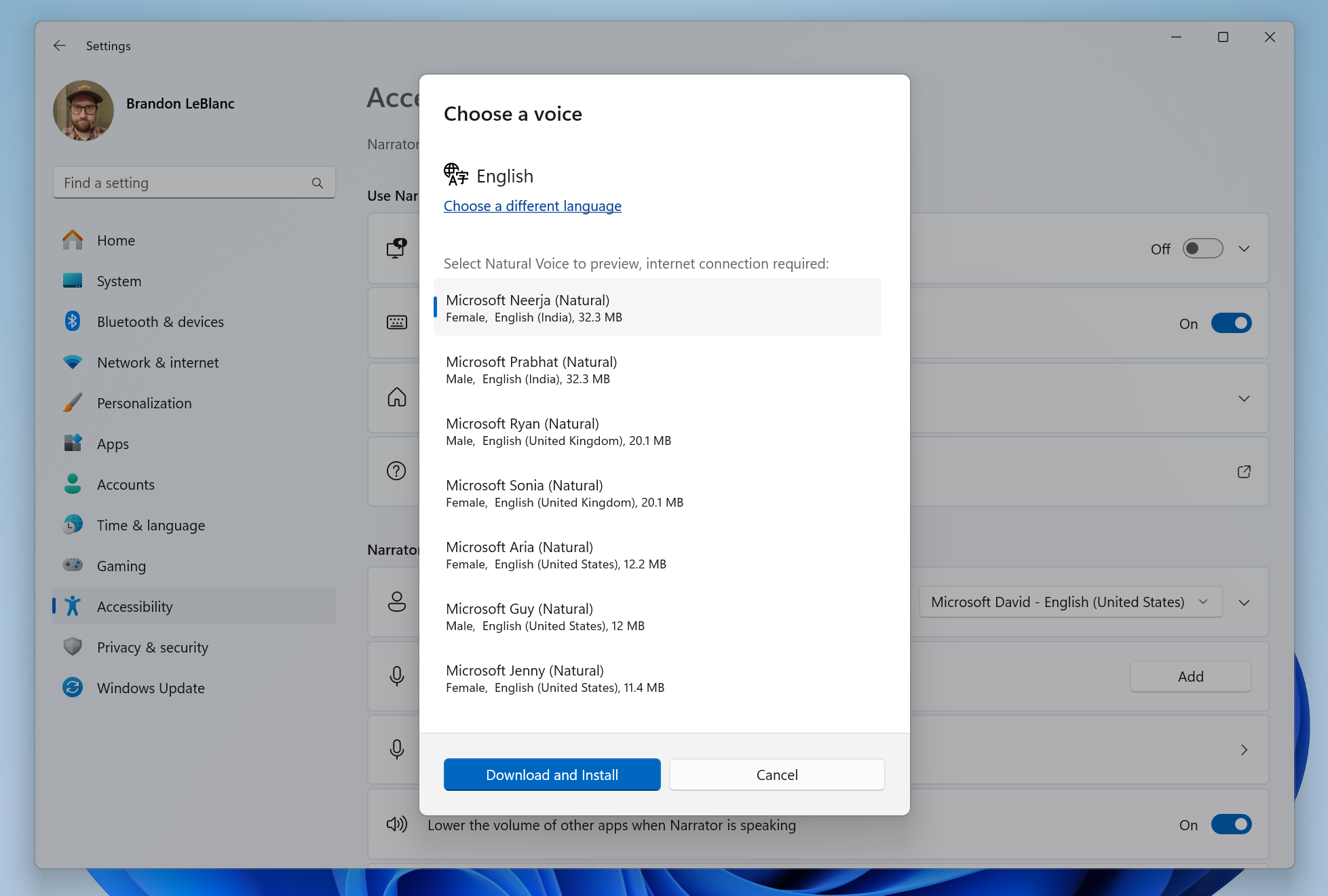 FEEDBACK: Please file feedback in Feedback Hub (Win + F) under Accessibility > Narrator.
Enhanced image consumption experience in Narrator 
We are improving the image consumption experience with Narrator. There are two major changes:
We have introduced a new keyboard command for navigating between the images/graphics on a screen/page. Now, you can use the keys "G" or "Shift + G" to navigate forward or backwards between images in Scan mode (Narrator key + spacebar).
Recognition of text in images, including handwriting, is improved along with improvements to overall image descriptions. You can try the enhanced experience by navigating to the image and pressing Narrator key + CTRL + D key combination when the focus is on an image. This feature requires an active internet connection, and the setting to get Image Descriptions must be enabled in Narrator Settings.
FEEDBACK: Please file feedback in Feedback Hub (Win + F) under Accessibility > Narrator.
Changes and Improvements
[General]
Steps Recorder will not receive further updates and is planned for removal in a future Windows release. Starting in this build, Steps Recorder (PSR.exe) will display a new banner notification to guide users towards alternative options. We encourage our users to explore other options in Windows 11 such as Snipping tool, Xbox Game bar or Microsoft Clipchamp. For more, see this article.
[Windows Share]
The Windows share window will now only show apps under "Share using" that are tied to the account you are signed into Windows with – either Microsoft account (MSA) or Microsoft Entra ID (previously Azure Active Directory). If you are signed in with an MSA, you will see Microsoft Teams (free) instead of Microsoft Teams (work or school) and not both for example.
If you're signed in with a Microsoft Entra ID, your Microsoft Teams (work or school) contacts will appear in the Windows share window to quickly share to.
[Nearby Sharing]
If you turn on nearby sharing via quick settings or directly in Settings and you have Wi-Fi and Bluetooth off, it will turn Wi-Fi and Bluetooth on so nearby sharing will work as expected. If you turn off Wi-Fi or Bluetooth, it will also turn off nearby sharing
[Narrator]
In Microsoft Word, Narrator will now announce the presence of a draft comment, a resolved comment, a bookmark, or the availability of accessibility suggestions when reading text in the document.
Fixes
[File Explorer]
Fixed an issue causing File Explorer to crash on launch for some Insiders in the last few builds if you were using a non-default regional sorting option.
Fixed an issue which was causing opening the context menu on the desktop to crash explorer.exe in the last couple flights for some Insiders.
Fixed an issue which was causing explorer.exe to crash sometimes when entering paths into the address bar.
[Narrator]
Fixed an issue where Narrator was not correctly announcing the selected item in combo boxes when users try to change the combo box value using key combination Control + up or down arrow.
Fixed an issue where Narrator was announcing old dialog names even after users navigate to new dialog on few web pages.
Fixed an issue where Narrator was not reading Role of a control in tables on the web while using table navigation commands CTRL + ALT + Arrow keys.
Addressed an issue where Narrator was not announcing the selected state of menu items in few applications such as device manager.
Fixed an issue where Narrator was announcing both the unselected value and the newly selected value in elements such as date fields or any elements that are formatted as tables.
[Magnifier]
Fixed an issue in Magnifier settings page where the text below "voice speed" slider was not following the color contrast guidelines.
[Settings]
Fixed an issue where the Experimental Features section of Narrator Settings didn't have text.
[Windows Share]
Fixed an issue which was causing the share window to crash in the last couple builds.
NOTE: Some fixes noted here in Insider Preview builds from the Dev Channel may make their way into the servicing updates for the released version of Windows 11.
Known issues
[Copilot in Windows*]
When first launching or after refreshing Copilot in Windows while using voice access, you'll need to use "Show grid" commands to click in the "Ask me anything" box for the first time.
For developers
You can download the latest Windows Insider SDK at aka.ms/windowsinsidersdk.
SDK NuGet packages are now also flighting at NuGet Gallery | WindowsSDK which include:
These NuGet packages provide more granular access to the SDK and better integration in CI/CD pipelines.
SDK flights are now published for both the Canary and Dev Channels, so be sure to choose the right version for your Insider Channel.
Remember to use adaptive code when targeting new APIs to make sure your app runs on all customer machines, particularly when building against the Dev Channel SDK. Feature detection is recommended over OS version checks, as OS version checks are unreliable and will not work as expected in all cases.
About the Dev Channel
REMINDER: The Dev Channel has been rebooted. Windows Insiders who were in the Dev Channel on 25000 series builds have been moved to the new Canary Channel. Going forward, the Dev Channel will receive 23000 series builds. Insiders who were moved to the Canary Channel and want to move back to the Dev Channel can follow these instructions to do a clean installation of Windows 11 and then re-join the Dev Channel to receive 23000 series builds.
The Dev Channel receives builds that represent long lead work from our engineers with features and experiences that may never get released as we try out different concepts and get feedback. It is important to remember that the builds we release to the Dev Channel should not be seen as matched to any specific release of Windows and the features included may change over time, be removed, or replaced in Insider builds or may never be released beyond Windows Insiders to general customers. For more information, please read this blog post about how we plan to use the Dev Channel to incubate new ideas, work on long lead items, and control the states of individual features.
In some cases, features and experiences may go out to the Canary Channel first before going out to the Dev Channel however the Dev Channel will provide better platform stability. As we get closer to shipping, some features and experiences will also make their way to the Beta Channel when they are ready.
The desktop watermark you see at the lower right corner of your desktop is normal for these pre-release builds.
*Availability of Copilot in Windows: Copilot in Windows in preview is being rolled out gradually to Windows Insiders in select global markets. The initial markets for the Copilot in Windows preview include North America, United Kingdom and parts of Asia and South America. It is our intention to add additional markets over time.
Important Insider Links
Check out Flight Hub for a complete look at what build is in which Insider channel.
Thanks,
Amanda & Brandon
Source: https://blogs.windows.com/windows-insider/2023/11/15/announcing-windows-11-insider-preview-build-23590-dev-channel/