Hello Windows Insiders, today we are releasing Windows 11 Insider Preview Build 25977 to the Canary Channel. We are releasing ISOs for this build – they can be downloaded here.
REMINDER: As builds released to the Canary Channel are "hot off the presses," we will offer limited documentation for builds flighted to the Canary Channel including documenting only the most significant and highly impactful known issues. Please note that we will not publish a blog post for every flight – only when new features are available in a build.
What's new in Build 25977
Improving accessibility with Bluetooth® LE Audio
We're excited to announce that Windows has taken a significant step forward in accessibility by supporting the use of hearing aids equipped with the latest Bluetooth® Low Energy Audio (LE Audio) technology. Customers who use these new hearing aids are now able to directly pair, stream audio, and take calls on their Windows PCs with LE Audio support.
This feature is available on Windows devices with our recently announced Bluetooth® LE Audio support, which will be a growing market of devices in the coming months. In upcoming flights, we will be introducing additional capabilities to the hearing aids experience on Windows, such as controlling audio presets directly within Windows settings. Stay tuned for more details about these new capabilities as they roll out.
FEEDBACK: Please file feedback in Feedback Hub (WIN + F) under Devices and Drives > Bluetooth – Audio quality, glitches, choppiness and stuttering.
Windows Location Improvements
We're adding new controls to help you manage which apps have access to the list of Wi-Fi networks around you, which could be used to determine your location.  You can view and modify which apps can access the list of Wi-Fi networks by navigating to Settings > Privacy & security > Location.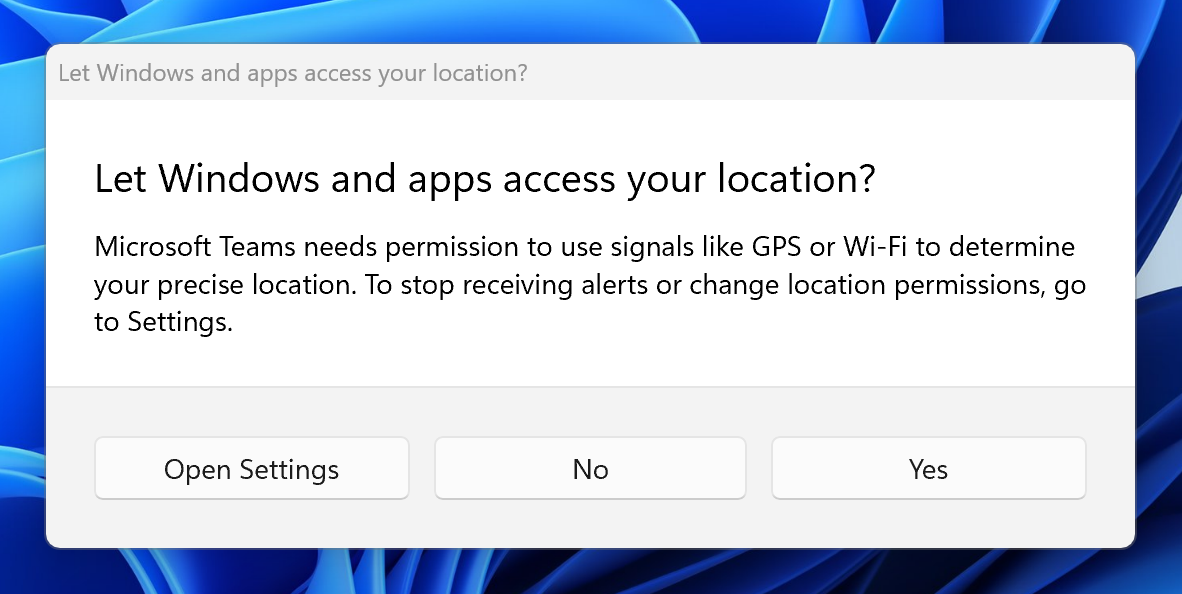 To simplify the process of sharing your location with trusted apps, we have also added a new prompt that will appear the first time an app attempts to access your location or Wi-Fi information. This prompt will enable location services and allow the app to access your location, helping you complete tasks such as finding directions or checking the weather without navigating to Settings. Additionally, the prompt will notify when an app unexpectedly requests access to location services so that you can deny it. If you never want apps to access your location, you can turn off 'Notify when apps request location' on the Location Settings page to hide these prompts when location has been turned off.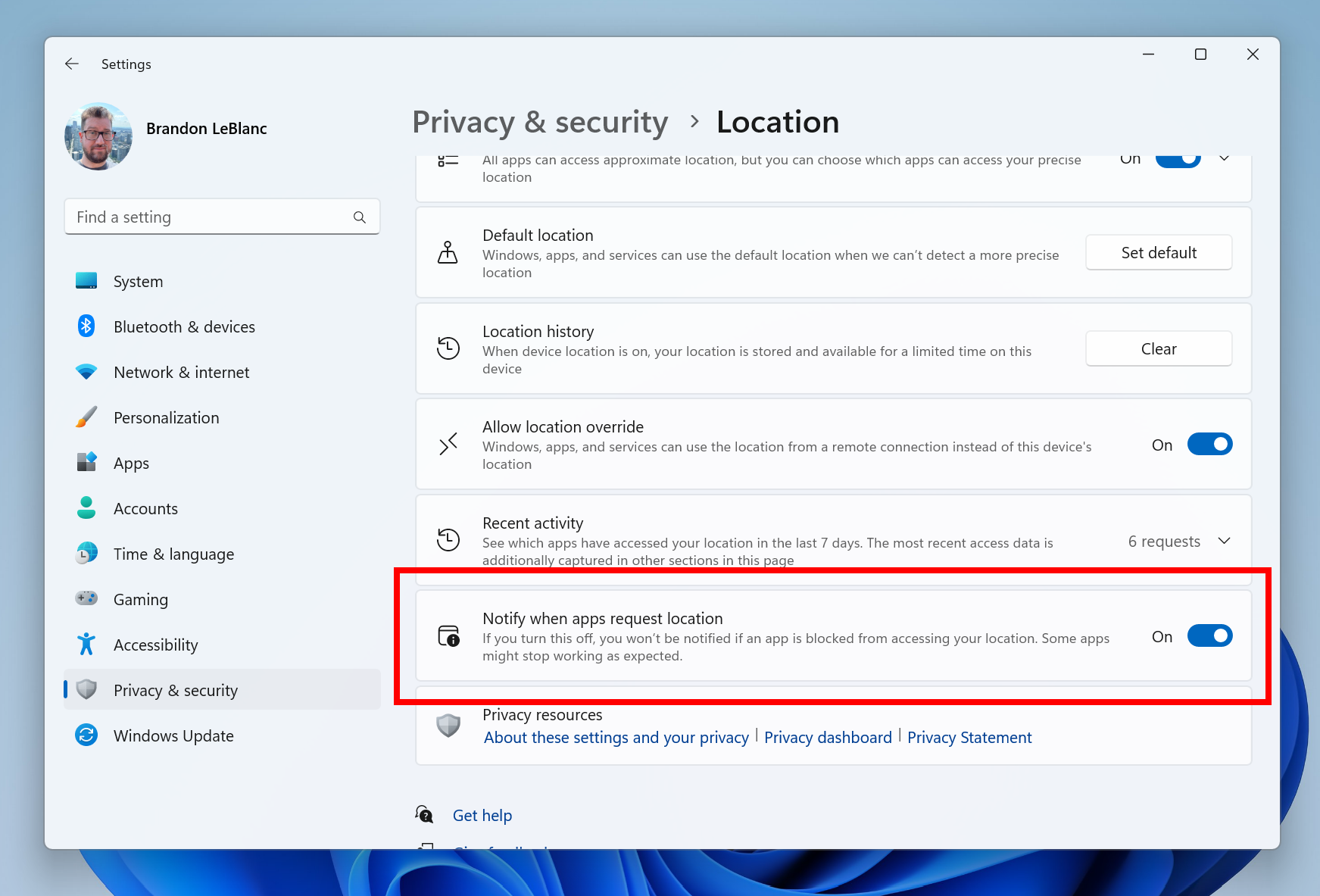 Once you have granted permission, apps that use location or Wi-Fi information will now appear in Recent activity on the Location page, and the location icon will show in the taskbar while the app is in-use. This will help you better monitor when apps are using this information.
App developers can learn about changes to the API permissions and actions they can take to improve app experiences by reviewing https://aka.ms/WifiAccessChange
FEEDBACK: Please file feedback in Feedback Hub (WIN + F) under Devices and Drivers > Location Services.
SMB over QUIC Client Access Control
Starting with this build (Build 25977), SMB over QUIC now supports additional access control options for clients. This improves the existing SMB over QUIC feature, which introduced an alternative to the TCP network transport, providing secure, reliable connectivity to edge file servers over untrusted networks like the Internet.
With this new option, administrators can restrict which clients can access SMB over QUIC servers. This option gives organizations additional SMB over QUIC connection protections but does not change the Windows authentication used to make the SMB connection or the end user experience.
This new feature requires both the Windows 11 Insider Preview Build 25977 as well as a Windows Server Insider Preview Build 25967 or higher running in a VM.
For more information on configuring SMB over QUIC client access control, review https://aka.ms/SmbOverQuicCAC.
Changes and Improvements
[General]
Starting with this build, Mail and Calendar will no longer be installed after doing a clean install using the provided ISOs here. This ONLY applies for clean installs of Build 25977 and higher in the Canary Channel today. Mail and Calendar will not be removed on upgrade for Insiders in the Canary Channel. You can click here to learn more about the future of Mail and Calendar in Windows.
[Start menu]
The Xbox Game Bar will now show as just Game Bar under the Start menu and also under Settings > System > System Components. This change will come through a Game Bar update via the Microsoft Store.
[Input]
We are including two new keyboard layouts in this flight. These keyboards implement the two new German extended layout standards (E1 and E2). The extended layouts allow users to type all characters needed for German (including German quotations marks, which were not previously available), all Latin-based languages of the EU, Greek, IPA phonetic transcription, Egyptian hieroglyph transcription, most Latin-based languages of the entire world (including Vietnamese with its multiple accents per character), and more. To enable one of these layouts, go to Settings > Time & language > Language & region and select Language options under the ellipsis for the language you would like to use this keyboard with. On the Options page, select "Add a keyboard" and look for the new keyboard layouts "German Extended (E1)" or "German Extended (E2)". For more information, visit this Wikipedia page.
[Settings]
In Settings, when looking at your Wi-Fi password under the Wi-Fi properties, we now show a QR code so you can more easily share it with others. We also show a QR code when you set up a mobile hotspot to share your network connection.
Fixes for known issues
Fixed an underlying issue believed to be the root cause of various games having issues launching (citing graphics issues) or changing resolution in Build 25967.
Did some work to help improve performance when expanding the navigation pane in Task Manager.
Fixed an issue where certain .rar files would open blank or with an unexpected message saying there was insufficient memory to open the file.
Known issues
[NEW] Using dictation in voice access makes voice access crash.
We're working on the fix for an issue causing the print queue to no longer be accessible and showing an error when you try to open it.
Some popular games may not work correctly on the most recent Insider Preview builds in the Canary Channel. Please be sure to submit feedback in Feedback Hub on any issues you see with playing games on these builds.
For developers
You can download the latest Windows Insider SDK at aka.ms/windowsinsidersdk.
SDK NuGet packages are now also flighting at NuGet Gallery | WindowsSDK which include:
These NuGet packages provide more granular access to the SDK and better integration in CI/CD pipelines.
SDK flights are now published for both the Canary and Dev Channels, so be sure to choose the right version for your Insider Channel.
Remember to use adaptive code when targeting new APIs to make sure your app runs on all customer machines, particularly when building against the Dev Channel SDK. Feature detection is recommended over OS version checks, as OS version checks are unreliable and will not work as expected in all cases.
About the Canary Channel
The Canary Channel is the place to preview platform changes that require longer-lead time before getting released to customers. Some examples of this include major changes to the Windows kernel, new APIs, etc. Builds that we release to the Canary Channel should not be seen as matched to any specific release of Windows and some of the changes we try out in the Canary Channel will never ship, and others could show up in future Windows releases when they're ready.
The builds that will be flighted to the Canary Channel are "hot off the presses," flighting very soon after they are built, which means very little validation and documentation will be done before they are offered to Insiders. These builds could include major issues that could result in not being able to use your PC correctly or even in some rare cases require you to reinstall Windows. We will offer limited documentation for the Canary Channel, but we will not publish a blog post for every flight – only when new features are available in a build.
Our Canary Channel won't receive daily builds; however, we may ramp up releasing builds more frequently in the future.
The desktop watermark you see at the lower right corner of your desktop is normal for these pre-release builds.
Important Insider Links
Check out Flight Hub for a complete look at what build is in which Insider channel.
Thanks,
Amanda & Brandon
Source: https://blogs.windows.com/windows-insider/2023/10/18/announcing-windows-11-insider-preview-build-25977-canary-channel/