Hello Windows Insiders, today we are releasing Windows 11 Insider Preview Build 25370 to the Canary Channel.
REMINDER: As builds released to the Canary Channel are "hot off the presses," we will offer limited documentation for builds flighted to the Canary Channel (no known issues for example), but we will not publish a blog post for every flight – only when new features are available in a build. And like the previous Canary Channel build, this build has a few new features and changes to document.
What's new in Build 25370
Support for vTPM in Hyper-V on Windows on Arm (Arm64) builds
After upgrading your host OS to the latest flighted build (Build 25370 and higher), you will now be able to upgrade guest Windows on Arm VM's to Windows 11 Insider Preview builds as it will detect the TPM 2.0 requirement.
Changes and Improvements
[Networking]
Added support for bridging adapters via command line via netsh.
Passpoint Wi-Fi networks will now support enhanced connection performance and will display a URL in Quick Settings to provide information to users about the venue or event.
We added WPA3 support to the Phone Link instant hotspot feature for more secure connections to a phone's hotspot. Also made fixes to respect metered connection settings, reduce duplicate profiles, and show the phone's display name in the network list.
[Settings]
We have added links to advanced properties for network adapters and internet properties under Settings > Network & internet > Advanced network settings.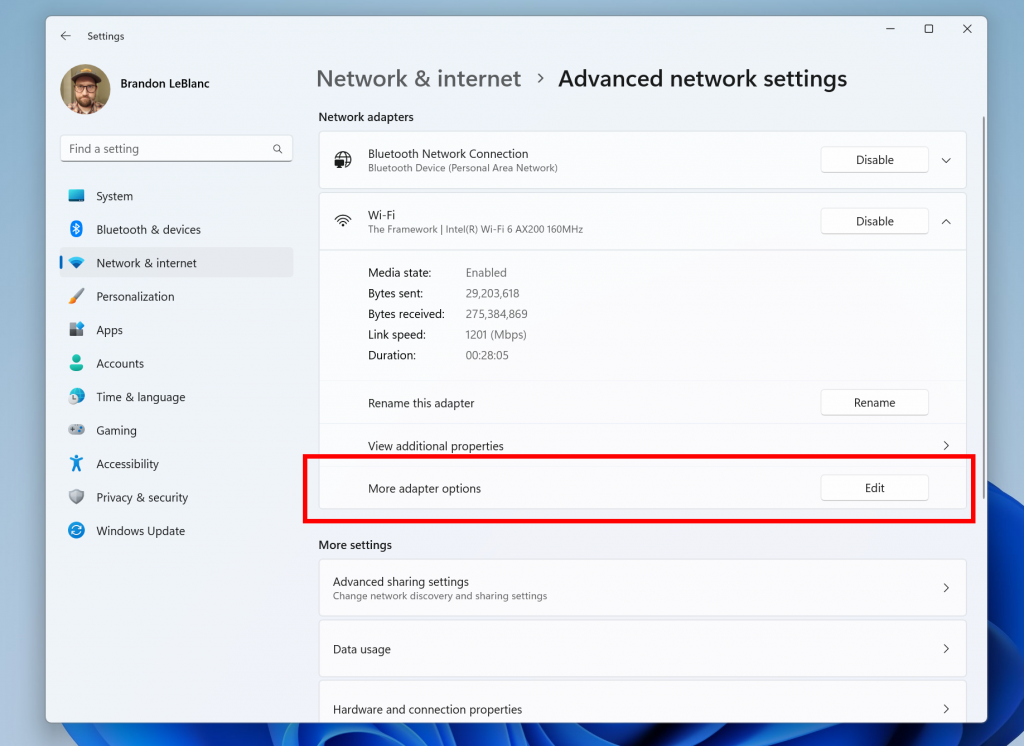 For developers
You can download the latest Windows Insider SDK at aka.ms/windowsinsidersdk.
SDK NuGet packages are now also flighting at NuGet Gallery | WindowsSDK which include:
These NuGet packages provide more granular access to the SDK and better integration in CI/CD pipelines.
SDK flights are now published for both the Canary and Dev Channels, so be sure to choose the right version for your Insider Channel.
Remember to use adaptive code when targeting new APIs to make sure your app runs on all customer machines, particularly when building against the Dev Channel SDK. Feature detection is recommended over OS version checks, as OS version checks are unreliable and will not work as expected in all cases.
About the Canary Channel
The Canary Channel is the place to preview platform changes that require longer-lead time before getting released to customers. Some examples of this include major changes to the Windows kernel, new APIs, etc. Builds that we release to the Canary Channel should not be seen as matched to any specific release of Windows and some of the changes we try out in the Canary Channel will never ship, and others could show up in future Windows releases when they're ready.
The builds that will be flighted to the Canary Channel are "hot off the presses," flighting very soon after they are built, which means very little validation and documentation will be done before they are offered to Insiders. These builds could include major issues that could result in not being able to use your PC correctly or even in some rare cases require you to reinstall Windows. We will offer limited documentation for the Canary Channel, but we will not publish a blog post for every flight – only when new features are available in a build.
Our Canary Channel won't receive daily builds; however, we may ramp up releasing builds more frequently in the future.
The desktop watermark you see at the lower right corner of your desktop is normal for these pre-release builds.
Important Insider Links
Check out Flight Hub for a complete look at what build is in which Insider channel.
Thanks,
Amanda & Brandon
Source: https://blogs.windows.com/windows-insider/2023/05/22/announcing-windows-11-insider-preview-build-25370/