MediCat USB is a bootable troubleshooting environment that ships with Windows PE boot environment, and troubleshooting tools. The author of MediCat DVD designed the bootable toolkit as an unofficial successor to the popular Hiren's Boot CD boot environment. Hiren's Boot Cd has last been updated in 2012, and while it works in many cases, at least some of the software it ships with is outdated and requires updating.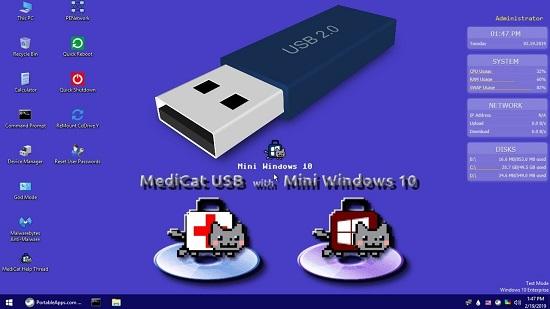 You get to access all sorts of programs right there, and even more if you are using a version of the toolkit that came with PortableApps included (this one). This include many tools that help you troubleshoot issues on a PC; to name a few: EaseUS Partition Master, HDDExpert, NTFS Permissions Tool, backup tools, Dead Pixel tester, CPU-Z, RegAlyzer, Dr.Web CureIt, Kaspersky TDSSKiller, Malwarebytes Anti-Malware, and Autoruns.
MediCat USB is a complete Hiren's Boot Disk replacement for modern computers. MediCat USB aims to replace the discontinued and dated Hiren's Boot Disk. It is geared towards modern hardware, and follows the Ubuntu release cycle with a newly-updated release every 6 months. The author of MediCat DVD designed the bootable toolkit as an unofficial successor to the popular Hiren's Boot CD boot environment. The menu lists the following options in this regard:
64-Bit windows Recovery: Choice of Microsoft or Easy Recovery options for Windows 10, Windows 8.1 and Windows 7.
Hard Disk Tools: includes currently Acronis TrueImage 2017, GParted, Norton Ghost 11.5, Paragon Hard Disk Manager, PloP Boot Manager, SpinRite, SuperGrubDisk, Darik's Boot and Nuke.
Diagnostic Utilities: includes currently Hardware Detection Tool Memtest86+, TestDisk / PhotoRec / LiliPad, Ultimate Boot Cd.
Scan for Viruses: this launches Comodo Rescue Disk currently only.
Remove User Account Passwords: Active Password Changer, Daossoft Windows Password Rescuer, Offline NT Password & Registry Editor, PCUnlocker, Boot Kon-Boot CD.
Featured
PortableApps
Active@ BootDisk
AoMei Partition Assistant
EaseUS Partition Master
MiniTool Partition Wizard
Parted Magic
Acronis True Image
MiniTool Power Data Recovery
EaseUS Todo Backup
AoMei Backupper
Symantec Ghost
Macrium Reflect
O&O BlueCon
AIDA64
Recuva
Speccy
Lazesoft Recovery Suite
SSDLife
AIDA64
Backup and Restore Drivers
IrfanView
Dead Pixel Tester
Symantec Ghost
MediaCreatonTool
Windows ISO Downloader
WinToHDD
ESET OnlineScanner
CPU-Z
PasswordChanger
Process Explorer
Windows Password Recovery
WirelessKeyView
InfraRecorder
Macrorit Data Wiper
EasyBCD
WirelessNetView
… and many more
What's NEW in MediCat USB 21.12
Added
AOMEI Backupper, DiskGenius, EasyUEFI, Macrium Reflect, MiniTool ShadowMaker, and Symantec Ghost boot disks have been have been restored as bootable ISOs. (.wim files, more accurately.)
Windows 11 Recovery disc was added to the Windows Recovery menu, and I disabled the TPM 2.0 and CPU checks myself.
BIOS Beep Codes Verifier 1.0.3.1036 to PortableApps menu.
UEFITool v0.28.0 to PortableApps menu.
UEFI BIOS Updater 1.69.17.2 (Converted from .bat to .exe by me) to PortableApps menu.
Dell 64BIT BIOS Flash Utility v3.3.1, A03 (Icon added by me) to PortableApps menu.
ASUS WinFlash v3.2.10, (PortableApps menu)
Prime95 v30.8, build 3, (PortableApps menu)
MediaCreationTool for Windows 11, (PortableApps menu)
MediaCreationTool[AIO], (PortableApps menu) a batch file tool that I converted to .EXE which can download Windows ISOs for you. Also includes a .bat file to patch Windows 11 ISOs against TPM and CPU checks.
Windows 11 Fixer, (PortableApps menu) to fix Windows 11 annoyances.
Windows Install Assistant, (PortableApps menu) to check if your Windows meets the requirements to install Windows 11.
Partition Bad Disk, (PortableApps menu)
LICENSE.txt to the root of the USB.
"Administrator" user folder shortcut on the Mini Windows 10 desktop.
Added "The Official Website" URL shortcut to the Mini Windows 10 desktop, as well as in the Google Chrome Bookmarks bar.
Removed
My personal SSID and Wi-Fi password have been removed from Wifi.bat (Oops!)
Problematic apps that would throw up errors or prompt you for a license have been removed.
OnlyOFFICE Portable, to save drive space.
Versioning numbers have meen removed from the menus for a cleaner look. You can find the version information by checking the Submenu with F6.
NIUBI Partition Editor, to save drive space.
O&O BlueCon, to save drive space.
The 32-bit menu of Lockpick has been removed, as it was a useless waste of space.
Updated Apps
Many PortableApps have been updated.
Ventoy to v1.0.63
7-zip to v21.06
Tor Browser updated to v11.0.2, and is now set to auto-connect to the Tor network upon opening it.
Snappy Driver Installer Origin updated to vR739
PCUnlocker updated to v5.6 in Lockpick.
Updated Images
EaseUs Partition Master to v16.5
Parted Magic to v2021.11.17
MiniTool Partition Wizard to v12.6
ShredOS to v2020.05.017, build v0.32.003_20211111
AOMEI Backupper to v6.8.0
AOMEI Partition Assistant to v9.5.0
Jayro's Lockpick has been upgraded to a Windows 11-based WinPE.
Boot-Repair-Disk to v2021-12-16
EasyUEFI to v4.8
Rescatux v0.74
SystemRescue to v8.07
PassMark MemTest86 to v9.3.1000[Intel/AMD]
PassMark MemTest86 to v9.3.1000[ARM64/AARCH64]
EaseUS Todo Backup to v13.5.0, build 20211123
Macrium Reflect to v8.0.6353
HDAT2 to v7.4
MiniTool Power Data Recovery to v10.2
Active@ Data Studio to v18.0.0
ShredOS to v2020.05.016, Build 0.32_20211029
Menu Changes
I have completely pain-stakingly rewritten ventoy.json, so that anyone can drop in a new updated .IMG, .ISO, .VHD, or .EFI file and rename it in the folder. This means you no longer have to edit ventoy.json when updating your bootable files.
As a result of the re-write above, the folder structure has also changed to not only take advantage of the new menu, but also in aiding users with tooltips under the menu, giving descriptions of the tools, and telling users wether the tool supports BIOS, UEFI, or both.
Backup_and_Restore has been renamed to Backup_and_Recovery.
Boot_an_Operating_System has been renamed Live_Operating_Systems.
A few icons have been adjusted, and a new icon for UEFI files has been made.
Version info has been updated.
New Wallpaper
Added a holiday hat to the mascot.
Other Misc. Changes
The Driverpacks in USB:\PortableApps\SnappyDriverInstaller\Drivers\ have been repacked with the latest 64-bit Windows 10 drivers (and all others removed.)
The latest storage drivers have been integrated into Mini Windows 10's .wim file.
A new desktop icon is on the Mini Windows 10 desktop, taking the user to the new MediCat website. (medicatusb.xyz)
Fixed
The Malwarebytes Bootable WinPE now boots up Malwarebytes v2.2.1.1043, and completes virus scans without crashing. (Please see the _READ_ME!_.txt file at USB:\Programs\MalwarebytesPortable\ for more information.) Thanks @Gremlin220366#4797 for the new Malwarebytes Portable build!
Fixed the Wallpaper setter so it sets the wallpaper properly in Mini Windows 10. It sometimes wouldn't set in VMware testing, and has been fixed within pecmd.ini.
Also fixed Rainmeter not launching in certain instances.
Further improvements to overall system stability and other minor adjustments have been made to enhance the user experience.
Requirements:
USB stick with minimum 32 GiB
Note: First thing to do is disable any "real-time scanning" in your antivirus software, including Windows Defender. Otherwise you will have applications get deleted from your USB stick during creation, and things won't work properly.
Download Medicat USB